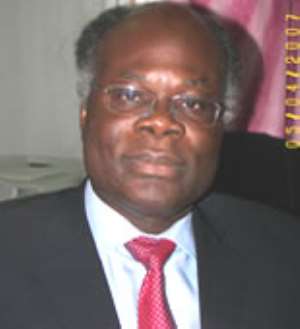 Former Deputy Interior Minister, Hon K.T. Hammond, and the Director General of the Ghana Broadcasting Corporation, Mr. Ampem Darko created a major scene in Parliament on March 24, after the two men clashed over the former's call for the dismissal of the latter.
Members of Parliament at the Cafeteria of Parliament had to intervene to stop the two men from throwing punches at each other.
Hon K.T. Hammond had called the GBC boss a "liability" and asked the NDC government to terminate his appointment.
The Adanso-Asokwa MP made the comments on the floor of Parliament, while contributing to the motion for the approval of the budgetary allocation to the Ministry of Information this year.
Explaining to Citi News why the GBC boss must go, Hon Hammond said on numerous occasions Mr. Ampem Darko's actions portrayed him as one who was in bed with the government.
He noted however that "I know the Minister for Information has no power to remove the Director General but at least in consultation with the Media Commission something could be done. He should not be allowed to sit there because of his own selfish ends".
"He is become a liability and I don't mind whether it is immediate or in due course, the point is that he should be removed because he really has outlived his usefulness".
In response, Mr. Ampem Darko, who walked into the Cafeteria at the tail end of Citi News' interview with the Adanso-Asokwa MP and fired a barrage of verbal insults at Hon Hammond after he had snubbed him in the presence of his subordinates.
Reached for her comments, Information Minister, Madam Zita Okaikoi, denied Hon KT Hammond's claims that the NDC government was maintaining Mr. Ampeng Darko at post because he was allegedly serving the parochial interests of the ruling party.