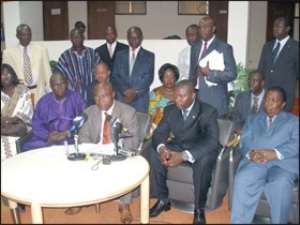 THE RAGING controversy over the needless retrieval of three state vehicles from former President Kufuor by the Atta Mills Administration, as well as surreptitious attempts to eject the former Chief Executive from an office accommodation, is beginning to reach a boiling-point, as the Minority in Parliament demand immediate corrective measures.
Addressing a highly patronized news conference at Parliament House yesterday, the Minority reminded the National Democratic Congress (NDC) Administration that "anger and hate mongering are not bed fellows of good governance" and challenged President Mills to make a bold declaration on the use of the office accommodation by former President Kufuor.
The Minority, in a strong bond of solidarity, also called for the immediate replacement of the three retrieved BMW cars from former President Kufuor with vehicles of the same standard.
Flanked by almost all the Minority New Patriotic Party (NPP) Members of Parliament, the Leader of the group, Osei Kyei-Mensah-Bonsu noted that former President Kufuor, like his predecessor, did not err in taking home the vehicles and acquiring an office accommodation after retirement, while awaiting the implementation of the recommendations of the Chinery Hesse Committee.
Unfortunately, in what the Minority side described as an affront to conventional wisdom and a betrayal of faith, operatives and the security capo of President Mills, Lt. Col. (rtd) Larry Gbevlo Lartey, recently stormed the house of former President Kufuor and took away the three BMWs with the promise of replacing them with Chryslers.   
Again, a group calling itself the Ga-Adangme Youth, in a manner suspected to have subtle and sinister forces of political authority backing it, recently held a press conference demanding that former President Kufuor should immediately vacate a renovated office building once occupied by a Minister of State, the late Hawa Yakubu.
Indeed, as of now, there was a raging argument between the Presidential spokesperson, Mahama Ayariga and P. V. Obeng, head of the erstwhile Government Transition Team on what President Mills knew about the office accommodation.
"Would it be wrong then to postulate that this whole furore is orchestrated for some insidious political reasons? Is it the inference of these developments that the Chinery Hesse recommendations will never be implemented?
What hypocrisy and double standards are at work?" the Minority Leader asked rhetorically.
He said one could not help but suspect that there was an orchestrated campaign to vilify and persecute former President Kufuor, who had made invaluable contributions to the development of the country and therefore deserved some peaceful retirement.
Citing what had been described as a convention, Hon. Kyei-Mensah-Bonsu recalled that "long before former President J. J. Rawlings left office, he had acquired for his use and that of his family, some Government property in about the same area that the office in question is located. What is even curious is that some of these properties were occupied by his friends".
Furthermore, "former President Rawlings took away seventeen (17) state vehicles, including the official car he used as a President and armour plated cars".
According to Hon. Kyei-Mensah-Bonsu, it was after a year that Victor Smith, Special Assistant to ex-President Rawlings wrote a letter dated February 26, 2002 to then Chief of Staff, Kwadwo Mpiani that his boss should be allowed to retain five cars by himself and his family and the request was accepted.
The vehicles were a Blue-Black Chevrolet GR5823A, Metallic-Brown Toyota Crown GT1402P, Blue-Black Opel Omega GR5825A, Blue-Black Toyota Land Cruiser AS1189C and Blue-Black GR6808Q.
Hon. Kyei-Mensah-Bonsu noted that ex-President Rawlings did not only keep five cars; but he kept those of his choice, and yet Former President Kufuor had not been allowed to keep just three cars; pending the implementation of the Chinery Hesse recommendations.
The Minority Leader who is also the MP for Suame, noted that on the assumption of office by the NPP in 2001, the Office of then former President Rawlings was immediately contacted on where he intended his office to be located.
This, Hon. Kyei-Mensah-Bonsu observed, was because the Kufuor Administration was aware of the constitutional imperative as enshrined in Article 71 and as ventilated in the Green Street Committee Report.
He disclosed that it was at this stage that Victor Smith explained that the former President had already set up an office in one of the property around where he lived and was quite happy to have it as his permanent office.
Former President Rawlings, the Minority Leader recounted, had selected a bungalow for his family's occupation whilst he was sitting President and was never disturbed by the Kufuor Administration; neither was he disturbed by the Ga-Adangme Youth.
He submitted that in the context of the provision of office accommodation, the Green Street Report was no different from the Chinery Hesse Recommendations within which former President Rawlings acted.
Hon. Kyei-Mensah-Bonsu noted that former President Kufuor, conscious that his tenure of office terminates irrevocably on January 7, 2009, directed the National Security to liaise with the Ministry of Water Resources, Works and Housing to look for an available Government premises for use pending the implementation of the recommendations of the Chinery Hesse Committee, which he set up in accordance with Article 71 of the 1992 Constitution.
The Minority Leader contended that this was a commonsensical approach since having left office, former President Kufuor would necessarily need to accommodate his books, papers and files in another place away from the Castle.
According to him, in a letter dated February 5, 2009, former Chief of Staff, Kwadwo Mpiani after consultations with P. V. Obeng's Transition Team and the Office of the President, wrote to the President explaining these facts, and seeking formal approval for the use of the office.
He called on President Mills to act publicly to end the raging controversies and assure Ghanaians that he was truly a man of unity, peace and President for all.
The Minority Leader recounted that in 2001, when the security apparatus went to retrieve State vehicles from then ex-Vice-President Mills in his absence and without the authority of the President, President Kufuor personally directed his National Security Adviser, Gen. Joshua Hamidu to go and render a personal apology to Prof. Mills' wife.
"The President's Spokesperson, Mr. Kwabena Agyepong, was subsequently ordered by the President to make a public pronouncement of apology to the same Prof. John Atta Mills," Hon. Kyei-Mensah-Bonsu concluded.
From Awudu Mahama & Sheilla Sackey, Parliament House