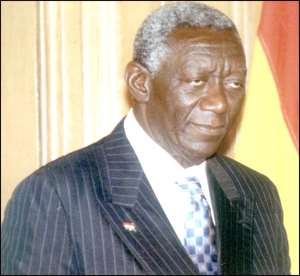 John Agyekum Kufuor The National Security Co-ordinator, Lt. Col. Larry Gbevlo-Lartey (Rtd) has 'armed' himself for a battle over the acquisition of a state bungalow which is to be used as an office for ex-President Kufuor.
Speaking to the media yesterday, the security capo who was the former head of the dreaded 64 Battalion popularly called Commandos, made it clear that the government was determined to flush out the ex-President from the former home of the late Hawa Yakubu.
According to the security boss, the bungalow belonged to his security office, and therefore he did not understand why the ex-President should convert it into an office, adding that it was a 'safe house' for the security agencies.
In a related issue, members of a group calling itself the Osu Traditional Council, breathing fire and brimstone, have sworn that they would not permit the ex-President to use the premises or any other within the Ga State for an office.
Spokesperson of the group, Abraham Adjetey Adjei, a former employee of the Ghana News Agency (GNA), said they were bent on making life uncomfortable for the ex-President if he flouted their eviction order.
He also said that they were uncomfortable because the Kufuor Office was too close to the Castle, claiming there could be clashes between supporters of the National Democratic Congress (NDC) and New Patriotic Party (NPP).
He claimed that Mr. Kufuor treated the Council with disrespect during his reign and turned a deaf ear to its grievances. The ex-President also failed, according to him, to give approval for a bungalow to be used by the Council as a secretariat office.