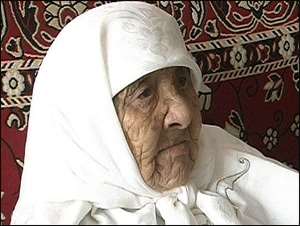 Sakhan Dosova THIS miracle mother of ten will celebrate her 130th BIRTHDAY on Friday.
Cheerful Sakhan Dosova is believed to be the oldest living human outdoing her nearest rival by 16 YEARS.
She was discovered during a cenus in Karaganda, northern Kazakhstan, where demographers were amazed to find she also appeared on Stalin's first census in 1926 aged 47.
Sakhan says she has never seen a doctor nor eaten sweets, but she is addicted to COTTAGE CHEESE and puts her longevity down to her sense of humour.
Her date of birth is said to be 27 March 1879, shown on her Soviet era passport and independent Kazakhstan identity card.
She said: "I don't have any special secret. I've never taken pills and if I was ill, I used grannies remedies to cure me. I have never eaten sweets.
Healthy
"I don't like them. But I love kurt, a salty dried cottage cheese, and talkan, ground wheat."
Her granddaughter Gaukhar Kanieva, 42, said: "She is a very cheerful woman. We think laughter and her good mood helped her live so long."
Sakhan was born when Queen Victoria still had 22 more years to rule in Britain and in the same year that Stalin and Einstein were born.
She lives in an overcrowded flat with one of her granddaughters, but is said to be in good health apart from hearing problems. TheSun
According to one account of her life, twice married Sakhan was widowed at the Battle of Stalingrad during the Second World War. Only three of her children are still alive.
Officially, the oldest living person in the world is American Edna Parker who is 114 years-old.