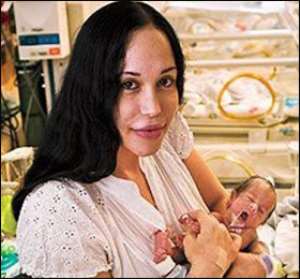 Nadya Suleman FOR the second time last week, Nadya Suleman's ever-growing household grew a little bigger when four of her eight babies arrived home from the hospital
Maliyah Angel, 5 lbs., 15 oz., and Nariyah Angel, 5 lbs., 2 oz., came home to La Habra, California, on Saturday afternoon to meet their six older brothers and sisters, hospital officials said.
"Everyone is happy and healthy," Suleman says. "But reality is really setting in. I've got a lot of work ahead of me."
Two of the baby boys were first sent on Tuesday in a chaotic scene.
This time, Suleman was shadowed by an off-duty police officer during the transfer. La Habra police even set up a roadblock on her street to keep the paparazzi away.
"This is another important milestone in the care of the octuplets," Mandhir Gupta, MD, neonatologist at Kaiser Permanente Bellflower Medical Center had said. "Each day, these babies bring joy to our staff members along with a reminder of their role in the historic birth and care of the octuplets."
The babies, born on January  26, 2009 are the United States' longest surviving octuplets. Hospital officials say both infants "are able to bottle feed, are gaining weight and are able to maintain their body temperature."  The other four octuplets continue to progress, gaining weight and drinking either formula or donated pasteurized breast milk, the hospital says.