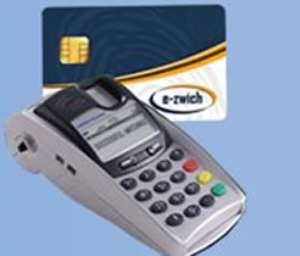 Mr Fred France, Chief Executive of Ghana Interbank Payment and Settlement Systems (GhIPSS), has urged the public to use their e-zwich cards for internal money transfers in order to derive the full benefit of the card.
The biometric card introduced last year is used to pay for items at shops and places where there are e-zwich points of sale (POS) devices. But the card also provides other services including money transfer from a cardholder to another and a payment distribution system that enables employers to pay salaries and wages directly onto their employees' cards.
Speaking to the media in Accra on Tuesday, Mr France explained that the money transfer service on the e-zwich card enabled people to transfer money to another cardholder in real time.
He said because the POS worked both on and offline, the service could be available in rural areas. According to him, rural banks had now been connected to the e-zwich platform to make the money transfer service more effective.
Besides, a significant number of post offices had been hooked onto the national platform under a project that would make sure that all post offices provided e-zwich services in order to increase access to the e-zwich service, he added.
The national electronic payment system was introduced by the Bank of Ghana to modernize the payment system as part of the financial sector reform programme.
It aims to reduce cash transaction in the economy and channel more money through the banking system, a move that can ultimately reduce the cost of borrowing.
Mr France said the payment system was very much on course with some major projects to be implemented soon.
They include payment of school fees using e-zwich cards in second and third cycle schools, installation of e-zwich compliant Automated Teller Machines ATMs, and payment of public sector salaries onto e-zwich cards.
GNA