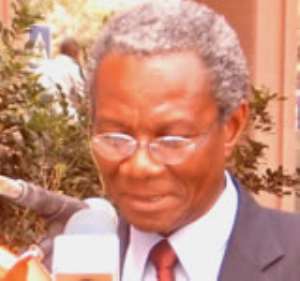 Leaders of third world Africa have been advised to use the global economic recession as spring board to rise from their economic doldrums.
The advice was given by speakers at the first edition of the Institute of Democratic Governance (IDEG) and Joy FM organized public policy lectures held in Accra on Tuesday.
The theme for the lecture is "Global economic crisis, challenges and opportunities for Ghana."
Dr. Robert Osei, a research fellow at the University of Ghana and a lecturer at the Ghana Institute of Management and Public Administration (GIMPA)said the crisis offers Ghana the opportunity to look more inward in terms of public policy.
Citing a World Bank report, Dr. Osei said there is a $250-$700 billion financing gap for developing countries for 2009, as a result of the effects of economic crisis.
He conceded it will have adverse effects on economic growth but was quick to add that developing countries must consider private investment for development.
"The reduction in aid will enable us to think more creatively about how to make private investment the key driver than foreign aid."
Even though he was not too convinced with taxes imposed on travelers imposed by the government he recognized that as one of new measures to increase revenue for development.
The second speaker and economist Mr. Kwame Pianim called on governments to think outside the box to solve some of the developmental challenges facing the country.
According to him, banks cannot finance the transformation of the economy because they have short term funds.
He called for long term financing and better management of SSNIT funds.
Mr. Pianim commended the erstwhile Kufuor administration for operating a less intrusive facility from the donor communities and expressed the hope that the new administration will follow suit.
The lecture was attended by policy makers, economists and a cross section of the general public.
Story by Nathan Gadugah