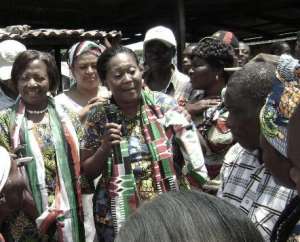 Mrs Ernestina Naadu Mills, First Lady on Tuesday appealed to religious bodies to highlight issues relating to morality in society to regain the good values and practices that had existed in the country.
"We as a nation need to realize how much we have drifted from upholding good moral values in our society and make amends so that, we do not destroy the future of our children."
"It appears drug abuse, prostitution, corruption and lawlessness are taking the better part of our society but we need to stop them," Mrs Mills said at a day's seminar organised by Management of The Book of Hope, an NGO in Accra.
The seminar was to discuss findings of a nationwide study on attitudes and behaviour of children and the youth conducted last year.
The study was to understand challenges facing children and the youth, their perception about sex, marriage and the role of the family in their lives.
Mrs Mills said the quality of leadership and decision taken by children in future would be determined by the training they acquired today.
"A leader who wants to continue growing in leadership would follow those ahead of him. The good book says train up a child in the way he should go and when he grows up he will not depart from it," she said.
Mrs Mills called on parents to make the right choices for their children since life was essentially about making the right decision.
She said "If the nation would be able to curb corruption, then, we need to start from the basics by training the children with honesty and trust," she said.
Mrs Mills encouraged parents to show love and compassion towards their children, adding that it would motivate children to look towards the future with hope which would lead to development.