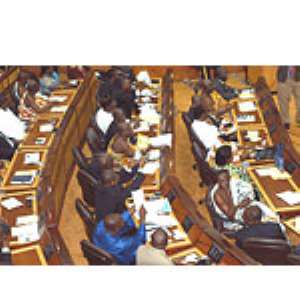 Parliament on Tuesday approved 263,870,821 Ghana cedis for activities of the Ministry of Roads and Highways for 2009 fiscal year.
As part of its activities for this year, the Ministry would undertake the West African Transport and Transit Facilitation project to improve access to Ghana by landlocked countries.
The project would seek to improve port operations and facilitate the effective movement of traffic along the Tema-Kumasi-Ouagadougou-Bamako transport corridor.
One major component of the project is the rehabilitation of the Buipe-Tamale section of the Kintampo-Tamale-Paga road which forms an integral part of the corridor.
A Parliamentary report on the budget estimates of the Ministry also looked at Ghana Highway Authority, which had about 11 million Ghana cedis outstanding arrears to pay to contractors from its meagre budgetary allocation.
It said payment of the arrears would put the Authority in a difficult situation to undertake most of its activities for the year.
The House also approved 416,401 Ghana cedis for the National Labour Commission.
The Commission is expected to intensify its efforts to clear all 2005 outstanding cases and ensure the settlement of 80 per cent of new cases by the end of this year.
It would also continue a nation-wide education on the new labour law and good industrial relations practice.
GNA