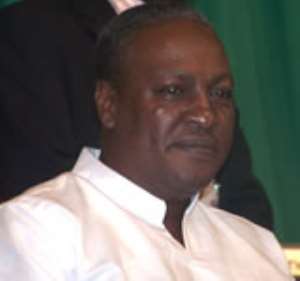 Vice President John Dramani Mahama leaves Accra on Tuesday for Burkina Faso, to attend an international conference aimed at promoting the sheanut industry as an important foreign exchange earner in West Africa.
The three-day conference organized by the West Africa Trade Hub with sponsorship from UN, would focus on the sheanut industry to help reduce poverty though enhanced income in West Africa.
Vice President Mahama is expected to deliver the keynote address at the conference on government's proposed Savanna Accelerated Development Authority (SADA), and its intention to modernise the sheanut industry to make it a sustainable part of Ghana's economic development.
The sheanut industry plays a vital role in the cosmetics and pharmaceutical industry but remains at a low level in most West African countries.
The Vice President in his speech would address the role the international community can play in this regard.
The Vice President will be away for two days.