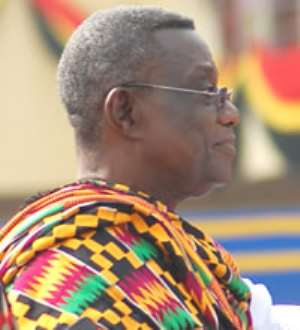 President John Evans Atta Mills on Tuesday reiterated Government's commitment to address the health needs of the people.
He gave an assurance that Government would team up with concerned groups and other stakeholders to stem the pandemic of Buruli Ulcer.
Government would, therefore, make a representation, at least at the ministerial level to the regional buruli ulcer conference scheduled for Cotonou, the Republic of Benin, next week.
President Mills gave the assurance, when a Beninois delegation, led by Professor Issifu Takpara, Benin's Minister of Health, delivered a special message from the Beninois President Yahya Bonnie, to him at the Castle, Osu, in Accra.
The contents of the message were not disclosed.
President Bonnie extended his congratulations to President Mills on his assumption to the office of President, the highest political position, of the land, and invited him to attend the upcoming conference.
President Mills expressed his gratitude to the Beninois President, and recalled that the first conference had been held in Yamoussokro, at which time Ghana was well represented.
President Mills gave the assurance that he would try to be at the conference himself, or at least there would be a ministerial representation.
Prof Takpara expressed his appreciation to President Mills for the warm reception.
GNA