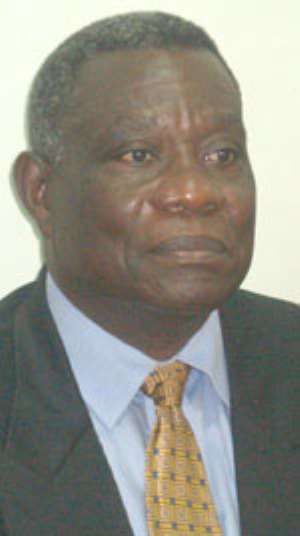 PRESIDENT JOHN Evans Atta Mills has eulogized the valuable contributions of the late National Democratic Congress (NDC) Member of Parliament for Jirapa, Mr. Edward Kojo Salia who was given a state funeral at the fore court of State House, yesterday.
According to him, the late legislator's devotion and commitment to the Telecommunication, Roads and Transport sector among others, cannot be overemphasized.
"His devotion to the telecommunication industry cannot be overemphasized. His determination and zeal has contributed in no small way to the success we are have chalked in the telecommunications industry today, as he was instrumental in the passage of the National Communications Authority Act of 1996 (Act 524), and relentlessly championed the cause of the privatisation of the telecom industry."
President Mills, whose tribute was read by Hon. Mike Hammer, the Minister of Transport, said "His reassignment to the Roads and Transport Ministry in the second term of the National Democracy Congress Government equally afforded him the opportunity to bring about accelerated road development throughout the country, and especially to the deprived Northern Regions."
At a well attended funeral which saw the attendance of some opposition members including the former Vice President, Alhaji Aliu Mahama, the President asserted that both the nation and the NDC had lost a great man.
Recounting the days that he taught the late MP at the University of Ghana, President Mills did not mince words on why the former MP became a cabinet Minister under the regime of President Jerry John Rawlings.
"Edward was a student of mine in the early 70's at the University of Ghana, Legon, and the mutual respect we had for each other in our lecture/student relationship grew even stronger when years later we became colleagues serving Mother Ghana in various capacities in the government of His Excellency President Rawlings," saying, "As Vice President, I chaired Cabinet meetings and the genteel disposition of Edward, as a Cabinet Minister, and his invaluable contributions at meetings, are very much etched in memory."
President Mills, who expressed regret that he could not set eyes of the late MP before he passed away, even though he sent a delegation to his house, said "As Minister of Transport and Communications in the President Rawlings Administration, Edward worked hard to justify this appointment by ensuring that the three Northern Regions enjoyed the benefit of reliable telephone services."
According to him, the demise of Hon. Salia was a big blow to the people of Jirapa and the Upper West region for they have lost an illustrious son.
To the president, it was no surprise to him, therefore, when even though he was not in the best of health conditions, the chiefs and people of Jirapa went on to retain him as their representative in Parliament.
"I recollect how during the heat of the 2008 campaign, Mr. Salia, though not as strong as he used to be, joined in galvanising support for the NDC in Jirapa in particular and the Upper West in general. As far as he was concerned, there was a battle to be won and for as long as he still had breath in him, he was going to soldier on till the end."
President Mills said that he was sad that the late MP who embarked on the journey to build a Better Ghana with him, "we are, however, unable to tap into the deep reservoir of Edward Salia's knowledge. But we take consolation in the fact that when he had the opportunity, he served his country to the best of his ability and has left his footprints in the sand of time."