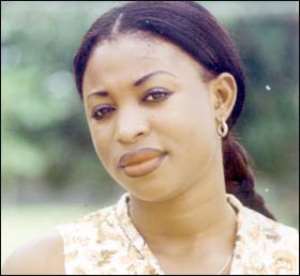 Jennifer Ofili Jennifer Ofili, the twenty-seven year old suspect who allegedly stabbed her lover to death on Saturday March 14, 2009 has attempted suicide whilst in police custody at Tesano, Accra.
The woman, who is currently on admission at the police hospital, is reported to have used an object to cut deep into both wrists and her neck with the intension of probably cutting some vital veins which could cause her to bleed to death.
A source close to the police told DAILY GUIDE that the suspect was in the company of two other suspects who were probably bailed last Saturday; leaving her alone in the cells.
At about 3:30pm, the source said she was found in a pool of blood by an officer who went to find out from her what she would like to eat.
She was rushed to the hospital where doctors helped to save her life through surgery.
At press time, she was said to be recuperating. However, all attempts to have her disclose the object she used in committing such inhumane act, as well as where and how she got the said object, have proved futile.
It would be recalled that Jennifer, in a fight with her boyfriend, Christopher Mario Asiamo, stabbed him to death.
After the gruesome act, she took cover at a hotel in Madina from where she moved to another at East Legon, where she was subsequently arrested by the police.
Jennifer, who is also known as Joy, has since confessed to committing the crime, adding that her lover, on that fateful night requested for money which she did not have.
An argument ensued between them with Chris threatening to beat her as he usually did at the least provocation.
It was there that she picked a knife and threatened to stab him if he did beat her but Chris also armed himself with a knife and engaged her in a fight.
In the ensuing struggle, she had the upper hand, and stabbed him fatally.
By Rocklyn Antonio