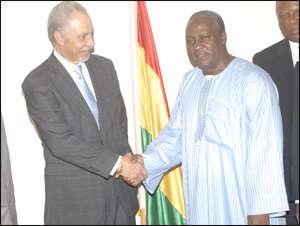 Veep welcoming the leader of the UN/ECOWAS Vice President John Dramani Mahama has assured the United Nations/Economic Community of West African States (UN/ECOWAS) Fact-Finding Mission on the murder of some 44 Ghanaians in Gambia in 2004 of Ghana's anxiety and preparedness to receive their verdict.
He noted that the murder issue had strained the relationship between the two countries and wished that the matter was resolved amicably for the restoration of the restrained relationship.
Vice President Mahama stated this at the Osu Castle when members of the Fact-Finding Mission led by Ambassador Curtis A. Ward, Chairman of the UN/ECOWAS Fact-Finding Mission, called on him to brief him on the current situation on the ground.
The chairman was accompanied by Justice Ariranga Govindasamy Pillay, President, South African Development Community Tribunal and Justice Albert Redhead, a retired Justice of Appeal Court.
Vice President Mahama described the incident as unfortunate, and called on the Fact-Finding Mission to find lasting solutions to the matter.
He recalled that as a former Member of Parliament
(MP) who was the Minority Spokesperson on Foreign issues, he was then at the forefront of the crusade to have the perpetrators brought to book, adding that as the current Vice President of Ghana, he was better placed to ensure that the matter was dealt with to the end.
He promised the entourage of Ghana's preparedness to respect the Mission's verdict.
Ambassador Pillay thanked the government of both countries for their cooperation which he considered as the needed antidote to unravel the mystery behind the murder of the Ghanaians.
He informed the Vice President of some steps that had been taken so far such as meeting with the only survival of that atrocity, some key eyewitnesses and family members who had cooperated with the Mission.
Also at the Castle was the newly-elected Archbishop of the Tamale Archdiocese, Most Rev. Philip Naameh who came to invite the Vice President to his official inauguration in Tamale.
Another group that visited the Vice President was a Chinese investment delegation led by the Chinese Ambassador to Ghana, Yu Wenzhe.
The group was at the Castle to discuss investment potentials in the country and the role China can play to bring development to Ghana.
By Wisdom Peter Awuku