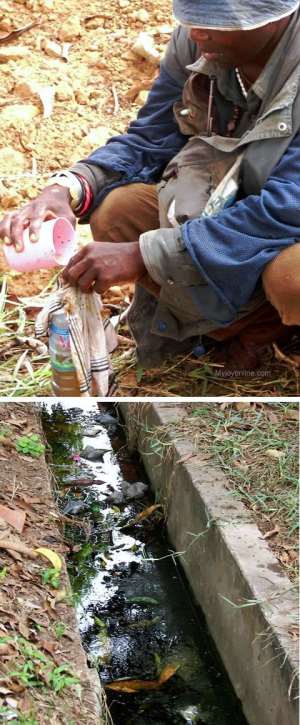 The Chief Psychiatrist at the Accra Psychiatric Hospital, Dr Akwasi Osei has observed that lack of psychiatric doctors in the country has made mental health care delivery problematic.
This is in view of the fact that at any time, between 30 and 40 per cent of the population suffers from one mental health problem or another.
He explained that the conditions ranged from minor mental illnesses, which were easy to treat, to the major ones, which were referred to as madness.
Dr Osei expressed these sentiments when the Daily Graphic contacted him to know more about the state of mental healthcare delivery in the country.
That followed the disclosure by Mr Evans Oheneba Mensah, an official of BasicNeeds, that the lack of enough mental healthcare doctors in the country had, for years, prevented people with serious conditions such as schizop4renia, manic depression, serious neurosis, alcoholism and epilepsy from receiving treatment.
Currently, Ghana has only four psychiatric doctors in the public sector, in addition to 11 others who are now on retirement but have been contracted to assist in the delivery of mental health care to the country's 22 million people.
Two out of the four who are supposed to be in active service do not work as healthcare practitioners but as lecturers.
Dr Osei, who confirmed that the country lacked adequate numbers of mental healthcare doctors, said, "That is why we always cry out for help."
The chief psychiatrist explained that many people in Ghana would not want to train as mental healthcare practitioners because of the stigma attached to mental health patients which unfortunately, was usually extended to health personnel who cared for them.
He also mentioned the lack of risk allowances that were provided elsewhere in the world to motivate people to take up, mental healthcare delivery as another reason that discouraged people from entering into that field in Ghana.
Dr Osei, however, hinted that there were currently six students who were undergoing training at the Ghana College of Physicians and Surgeons in Accra and were expected to come out between September and December this year.
The Daily Graphic learnt about the issue of inadequate mental health doctors when a team from the Kintampo Rural Health Training School (KRHTS) and an official from the University of Winchester (UoW) in the United Kingdom (UK), called on the Minister of Health, Dr George Sipa Adjah Yankey, in his office in Accra.
Briefing the minister on the activities of KRHTS, the Principal of the school, Dr E. T. Adjase, in the company of Professor Jane Erica of the UoW, said there were plans to upgrade the school to a university college in the near future to enable it to introduce mental health education programmes among other courses, in collaboration With the Hampshire Partnership NHS Trust (HPT) of the UK as well as the UoW.