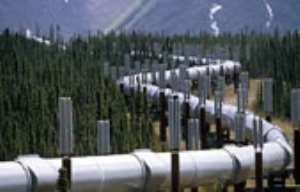 The West African Gas Pipeline Company says it is ready to deliver gas to the Volta River Authority.
The authority is billed to take gas into its Takoradi thermal plant.
According to the company, it is has delivered enough gas to Ghana since December 2008 to run one turbine but the VRA must first start its commissioning process in order to take the gas which is planned for 2009.
The gas pipeline project is a joint venture by Ghana, Nigeria, Togo and Benin to supply natural gas from Nigeria to power plants in three countries including Ghana.
The project has in the past suffered some delays, prompting fears that there might be no gas powering the thermal plant in Takoradi until 2010.
But in a statement the owner and operator of the sub-regional gas project said construction works at the Takoradi regulating and metering station has been completed and ready to deliver gas to VRA, implying that the next step depends on the VRA.