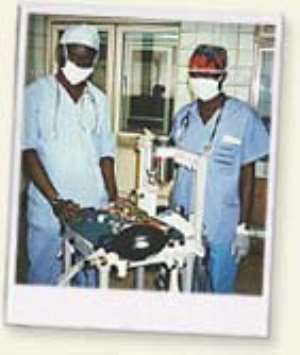 Dr Alexis Nang-Beifubah, Upper West Regional Director of Health Services has said the refusal of medical professionals, especially doctors to accept posting to some deprived regions such as those in the north was a hindrance to the provision of quality healthcare service delivery to the people.
He said the practice whereby medical professionals refused to accept postings without any caution was a major weakness in the profession which
needed to be addressed to promote quality healthcare service delivery to the people.
Dr. Nang-Beifubah was addressing management and staff of the Wa Regional Hospital at an end of year-get-together in Wa on Saturday to acknowledge the contribution of staff to health care delivery at the facility and to present them with awards.
He said nine medical doctors who were posted to the region last year but only two of them reported.
None of the nine pharmacists posted within the same period had reported, denying health facilities in the region the full complement of doctors and pharmacists they required to operate and provide quality healthcare services
to the people.
Dr. Nang-Beifubah commended the management and staff of the hospital for the peaceful industrial atmosphere that had helped to contribute to the reduction in maternal and child deaths and increased finances of the hospital.
He urged the staff to improve service delivery at the hospital for their clients and avoid lateness to work as well undermining the management.
He appealed to senior nurses to help trained junior nurses to acquire skills and experience to sustain the profession.
Dr Jacob Abebrese, Medical Director of the Wa Regional Hospital said the management had put in place "Quality Assurance and Client Satisfactory Teams" aimed to improve service delivery to clients.
He said the hospital had also improved its infrastructure development and thanked the government and the Non-governmental Organisations that had provided the assistance.
Naa Francis Banka, a Divisional Chief of Sombo in the Kaleo Traditional Area, who chaired the forum advised health workers to always work assiduously to save lives.
He said the responsibilities of health professionals were different from others, noting: "our call is to take care of a patient and prevent that patient from dying".
"Let your happiest day in the hospital be the day you have helped save or prevent a patient from dying", Naa Banka advised.
GNA