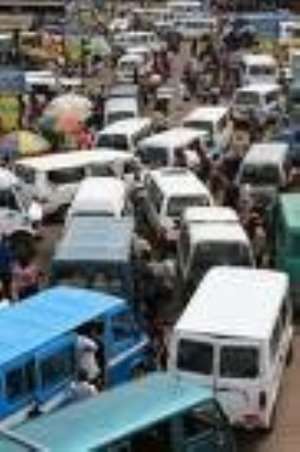 By William Beeko
Commercial drivers operating at the Kaneshie Market Lorry Park are gearing up for a massive strike against the Accra Metropolitan Assembly AMA.
The intended protest by the drivers is to register their qualms against any plans by the AMA to eject them in order to stop them from operating at the Lorry Park, TODAY has gathered.
The drivers who are overwhelmingly enraged said they were prepared to hit the principal streets of Accra to demonstrate against any move by the AMA to stop them from working.
The decision of the drivers stems from the fact that some officials of the AMA have dropped hints of future plans to prevent the commercial drivers from operating at the lorry park in order to give the place to a private business man.
According to them, the intention to sack them is a deliberate attempt by the AMA to deprive them of their wherewithal and daily bread.
Checks conducted by this paper unfolded that the AMA in its quest to manage the lorry park is planning to give out the park to an investor to undertake a business project at the park.
Sources close to AMA hinted this reporter that, this move is aimed at roping in money for the Assembly to be able to meet some of its daily expenditures, which includes the cleaning of Accra.
It is against this backdrop that it has ordered commercial drivers operating at the lorry park to get ready for a smooth ejection and relocation exercise.
The spokesperson of the Kaneshie Drivers Union, Uncle Ben, in an interview with TODAY indicated that the AMA's decision to eject and relocate them would fall on deaf ears since they were never ever ready to cooperate with such an action.
He said drivers have been doing brisk business over the years at the lorry park and will not coerced to comply with such an order from the AMA.
"We have been doing business here for couple of years now and there is no way we can leave here," he said, adding that "Hon. Enoch Tei Mensah, the Member of Parliament for Ningo Prampram during his term as the Mayor of the Accra City Council gave this lorry park to us to operate our transport business so, we are a bit surprised that all of a sudden we have been asked to vacate this lorry park."
Uncle Ben said they will resist any effort by the AMA to throw them away from the lorry park and would fight for the welfare of his people even at the last drop of his blood.
"The Takoradi Ford Station, the Adenta/Madina Station, Osu Labadi will all be affected and that would be a big blow for us," he said.
The drivers could not understand why the AMA had decided to undertake such an exercise and warned the city authorities to withdraw their planned action.
Source: TODAY newspaper