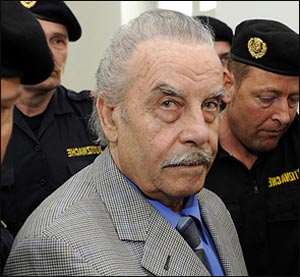 Josef Fritzl FURY erupted last night after it emerged that cellar fiend Josef Fritzl could walk free in just 14 years.
The incest monster — who imprisoned his daughter Elisabeth as a sex slave for 24 years — was sentenced to life yesterday.
But just minutes after his four-day trial ended, court chiefs admitted that with good behaviour, Fritzl, 73 — who is physically fit and healthy for his age — could be free in 2023.
He would normally be eligible to be considered for release by a panel of judges after just 15 years.
Court spokesman Franz Cutka said: "If you work on him serving 15 years then the 11 months he has already served would be taken into account and it would go down to 14 years."
Fritzl would have served just over a day and a half for each of the 3,000 times he raped Elisabeth, 42.
Fritzl had admitted all his hideous crimes — but under Austrian law he still had to be formally found guilty by the jury of four men and four women in St Poelten, Austria.
The sentence passed was the heaviest possible.
Fritzl, who fathered seven children by Elisabeth in the cellar beneath his home, was convicted of all 11 elements relating to murder, slavery, rape, false imprisonment, coercion and incest. TheSun
Judge Andrea Humer told Fritzl he must serve life for killing his two-day-old son Michael, who perished in the dungeon after he refused to seek medical help.
He showed no reaction as she added: "You will go to a psychiatric unit for people with abnormality of the mind."
But last night top forensic psychiatrist Dr Adelheid Kastner, 46, who spent weeks probing Fritzl's mind, said he was "disturbed" but "not mad".
She added: "He's as sane as the rest of us."