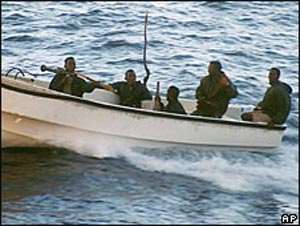 Somali pirates Pirates have seized a Greek-owned cargo ship off the coast of Somalia, Greek officials say.
The Titan, with 24 crew members on board, was seized on Thursday night, Greece's merchant marine ministry said.
The St Vincent-flagged vessel came under attack as it sailed to Korea from the Black Sea with a cargo of metal, the ministry said.
The Gulf of Aden sees frequent attacks on merchant vessels, accounting for 40% of 293 pirate attacks last year.
Vessels seized included a Saudi oil tanker and a Ukrainian ship transporting weapons, including tanks. Last month another Greek ship and 22 crew was seized.
Warships from more than a dozen nations, including the UK, the US, France, Germany and Iran are now patrolling the Gulf of Aden in an attempt to deter the pirates. BBC