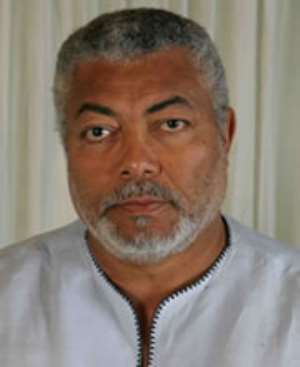 Jerry John Rawlings, ex-President of Ghana
On March 21, 1960, sixty-nine peaceful activists protesting against oppression of Apartheid were gunned down in Sharpeville, South Africa.
That crime shocked the world and exposed the evilness of the apartheid regime, forcing a global imposition of sanctions against the South African regime.
The Sharpeville Massacre as it is popularly known gave rise to the declaration of the International Day for the elimination of Racial Discrimination through United Nations Resolution 2142 in 1966.
On March 21, 2009 we all have to solemnly remember the 69 martyrs whose blood helped in eventually bringing down the wicked apartheid regime but more importantly consolidate a global commitment to eradicating racial discrimination in all forms.
The world still abounds in various subtle and blatant forms of discrimination, which have seen brutal situations in countries like Sudan, the then Yugoslavia, Rwanda, Burundi and the Chinese region of Tibet.
International efforts continue to be made to resolve these problems. The International Criminal Court has called for the arrest of Sudanese President Omar Al Bashir, but the same international community, which established the Court and caused the arrest of former Liberian leader Charles Taylor, is balking at the prospect of Bashir's arrest.
Thousands have died because there is a conscious effort at ethnic cleansing in Darfur, the same plight that befell Hutus and Tutsis in Rwanda and Burundi years ago.
As human beings we are created equal and evidence abound of the co-existence of people of varied ethnic backgrounds in different settings across the globe. Allowing setting stereotypes to becloud our judgement and imposing ourselves as superior over others is what leads eventually to intolerance and sometimes violence in its extremities.
Sharpeville took place 49 years ago and South Africa eventually gained true Independence in 1994 but sadly only last year there were horribly unbelievable scenes of xenophobia that shamed the very essence of what the whole world fought against for several decades.
Several countries in Europe, particularly the United Kingdom are struggling to stem a rising tide of racism that is as sophisticated as it is subtle. Segregation seems to have reared its head in some communities and some political parties like the British National Party (BNP) are whipping up a certain racial fervour of frightening proportions.
Back home in Ghana ethnocentrism is very existent with various ethnic groups suspicious of each other.
Our national politics is still laced with high doses of ethnic divisiveness that does not augur well for the unity of our country.
We cannot sit askance and assume that these problems can be wished away. There has to be a concerted effort from government, civil society organisations, traditional rulers, the media and indeed every citizen of Ghana to help alleviate this canker through education and attitudinal changes.
In the Upper regions of Ghana the sad tale of the conflict between Kusasis and the Mamprusis in Bawku and its environs has taken hundreds of lives and whole livelihoods have been destroyed as houses and other properties have been destroyed.
I recently had the opportunity to speak to the factions and I made it clear that peace will come to Bawku if the warring factions stop pointing fingers at each other, learn to appreciate their unique differences and agree to co-exist in peace.
Kusasis and Mamprusis have intermarried for a considerable period of time. If they now see themselves as different people who have to wipe each other out it does not augur well for the peace of the entire region.
As a people we have to appreciate that our co-existence is based on understanding that we have differences as individuals and groups and our tolerance of such differences is what makes us whole. An inability to tolerate one another because we find it difficult to accept the other's unique cultural and behavioural lifestyles do us no good and create in us a such a superiority complex which is selfish and myopic.
The sixty-nine activists who laid down their lives in the Sharpeville Massacre of 1960 could not have done so in vain. Apartheid has been eradicated but we cannot replace that with xenophobic behaviours, racial stereotyping, ethnic intolerance and a superiority complex that lead eventually to violence of varied proportions.
Let us remember those martyrs by individually and collectively appreciating that we are surrounded by countless forms of racial discrimination and play our role in eradicating this from our societies.