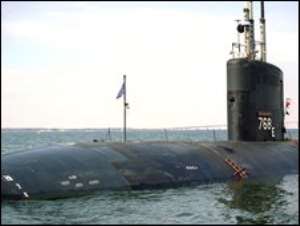 Two US navy vessels have collided in the Strait of Hormuz near Iran, lightly injuring 15 sailors, the US navy said.
A nuclear-powered submarine, the USS Hartford, and amphibious transporter the USS New Orleans collided early on Friday, the US Navy Fifth Fleet said.
The incident is being investigated and damage to both ships is being evaluated, a navy statement said.
The New Orleans' fuel tank was ruptured in the crash, causing a spill of 25,000 gallons (90,000 litres) of diesel.
No injuries were reported aboard the New Orleans, according to the statement from the Fifth Fleet, which is based in Bahrain.
The US military said there was some damage to the USS Hartford's sail, the tower structure on the top of the submarine.
But the atomic propulsion system of the submarine was not damaged by the incident, the statement said.
'No disruption'
The navy said both vessels were on regularly scheduled deployments to the region and conducting security operations.
"Both ships are currently operating under their own power," said the statement.
Shipping was not disrupted in the strait after the incident, the navy added.
"There is no disruption to shipping traffic in the strait. Both ships are operating under their own power and have passed through the strait," said Lieutenant Nathan Christensen, a Fifth Fleet spokesman.
In 2008, more than 15 million barrels of oil were transported through the Strait of Hormuz every day, equivalent to about 40% of seaborne oil traded globally.
The incident comes a month after a British nuclear submarine was involved in a collision with a French nuclear sub in the middle of the Atlantic.
HMS Vanguard and Le Triomphant were badly damaged in the crash in heavy seas.
Both the UK and France insisted nuclear security had not been compromised by that collision.
The US Fifth Fleet, working alongside US Naval Forces Central Command, patrols an area of about 7.5 million square miles of sea in the Middle East and eastern Africa.
The area covers the coasts of 27 countries and includes the Gulf, Red Sea, Gulf of Oman and parts of the Indian Ocean, as well as the important shipping lanes of the Strait of Hormuz, the Gulf of Aden and the Suez Canal.