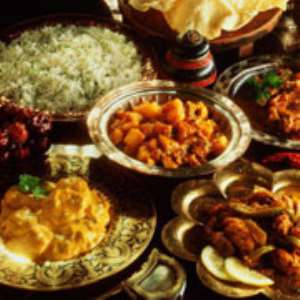 Curry Diner Finally Pays Up After 13 Years
A guilty customer who fled a curry house without paying has finally coughed up the cash - 13 years later.
The mystery diner left the Indian restaurant in Mumbles, Swansea, without paying for the £10 meal back in 1996.
Now it seems his conscience has finally caught up with him after he sent police £60 cash and an anonymous letter asking them to settle the bill.
But he left officers with some detective work to do.
He could not remember the name of the restaurant and just described its location on the seafront.
Police narrowed it down to one venue - but found the building was knocked down a couple of years ago, and a block of luxury flats built in its place.
They want to trace who owned the restaurant back in 1996 - when it was called the Sea View Palace.
The anonymous diner wrote in the type-written letter: "Dear officer, I have enclosed a sum of £60 as a way of compensation for not paying for food at a restaurant in 1996.
"The total sum for the meal and drink was under £10. However, I have decided to pay a larger sum as a way of compensation.
"I actually forgot that I didn't pay the restaurant owner for the meal, drink and waiter service.
"But now that I have remembered I would like to pay the restaurant owner the money that is owed to him/her.
"I would appreciate it greatly if you could contact the owner and pay the money that is owed him.
"The problem is that the restaurant has closed down. It was an Indian restaurant situated on Mumbles Road, opposite Verdi's, next to the old Pilot public house.
"Please could you give my apologies to the owner. Thanking you."
A police spokesman told Sky News Online: "It seems that the author has had a pang of conscience and wishes to repay his debt, with some inflation.
"We are appealing either to the former owner of the Indian Restaurant or to anyone who is aware of his or her whereabouts to come forward."