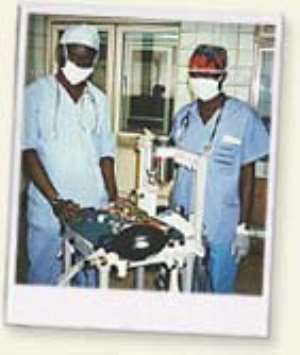 …Ridge and Pantang Hospitals fingered
By Ato Keelson
Reports filtering into the offices of The Ghanaian Journal.compoint to the fact that doctors working at government hospitals in the country tend to take monies they describe as consultancy charges from patients who come for treatment.
Investigations conducted by The Ghanaian Journal into the matter unfolded that this practice has been going on for many years without any appropriate action taken by the authorities, albeit the fact that it is considered as illegal for doctors, especially in government hospitals, to be seen taking monies from patients. The so-called consultancy fee which is charged by doctors ranges between five (5) – ten (10) Ghana cedis, depending on a patient's condition.
Our findings indicated the Ridge and Pantang hospitals are some of the government hospitals where such practice is ongoing unabated. At the Ridge hospital, for instance, it was discovered that patients were compelled to pay five (5) Ghana cedis as consultancy fee before they were allowed to see the doctor to be examined. And those who proved difficult were given a hectic time by the nurses on duty.
Some of the patients at the Ridge Hospital who spoke to this reporter noted that in the past nurses collected 50 pesewas as consultancy fee from them, but hinted that this has however increased astronomically to 5 Ghana cedis — something they argued is unbearable.
The paper established that the practice has been that whilst the patients are seated waiting for their turn to see the Doctor, a nurse usually comes around and draw their attention to the fact that they will need to pay a consultancy fee of 5 Ghana cedis.
The Journal was also reliably informed that the demand for consultancy fees by doctors have sometimes sparked off dirty verbal exchanges and even resulted in scuffles between nurses who go round to take the monies and the patients. There have been times where some of the patients have vouched not to pay for which reason they have been ill-treated and bashed by the nurses.
"I incurred the wrath of one of the nurses at the Ridge Hospital for refusing to pay a consultancy fee of 5 Ghana cedis which to me was extortion and illegal in the highest sense, a man who had sent her pregnant wife for treatment at the Ridge Hospital told this paper."
Further checks at the Ridge and Pantang government hospitals indicated that although a lot of patients have made several complaints regarding this practice, no action has been taken by the hospital authorities in these two hospitals to curb the situation. This has therefore made many of the patients who visit these government hospitals to believe it has been endorsed from the top.
When reached for his comment on this issue, the President of the Ghana Medical Association (GMA), Dr Emmanuel Adom Winful, stressed that he was unaware of such practice but stated categorically that if that is what has been going on then it is not legal. He said it was imperative that the various hospital administrators investigate the matter and call the offenders to book.
He made it clear that if the doctors are charging for services that they are not supposed to charge for then that is illegal.
"You are telling me, but if that is the case then it is not legal, and it is up to the various hospital administrations to call their people to order," he said.
According to the GMA president each hospital has its own arrangement, so if there are irregularities going on in some of the hospitals then it is incumbent on the medical superintendent or head of the hospital to take appropriate steps to address some of these issues.
"There are several arrangements that pertain in different hospitals because of apparent shortage of doctors to the extent that some people are hired to do certain jobs and are paid extra," Dr Winful contended.
These, he intimated, are arrangements that are peculiar to individual institutions, however he insisted that if it is for services that are supposed to be free and you are charging for them then that is absolutely wrong.