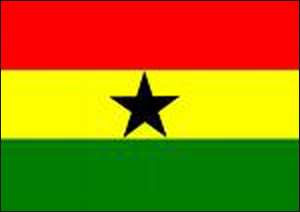 Ghana Flag The Ghana Meteorological Agency on Monday joins the rest of the membership of the World Meteorological Organisation (WMO) in marking World Meteorological Day.
Themed "Weather, Climate and the Air We Breathe," the day seeks to draw the attention of mankind to the factors affecting the quality of air at its disposal.  
Ghana, as part of the 187-member United Nations agency, is marking the occasion with a number of activities at the agency's headquarters at Legon, Accra, on Monday.
The selection of a relevant theme for each year's celebration has been bestowed on the Executive Council of the world body and this it does taking into consideration burning issues pertaining to the mandate of the organization.
The WMO is not only responsible for matters about weather prediction but anything which pertains to the environment.
In his annual message to the membership of the organization during such celebrations, the Secretary General of the WMO, Michel Jarrand noted that the choice of this year's theme has been informed by mankind's struggle to attain the UN's Millennium Development Goals in terms of health, food, water security and poverty alleviation as well as to increase their effectiveness in preventing and mitigating natural disasters.
The Secretary General recalled Hipppocrates' (father of medicine) rejection of superstition in favour of scientific observation, classified diseases and established sets of moral and professional standards still held today to buttress his position on the theme of the celebration.
Continuing, he noted that Hippocrates' work on airs, waters and places considers the effects of climate, water supply and regions on human health and compares the geophysical conditions of life in Europe and Asia.
Wind, rain, snow, sunlight and temperature, he stated, can have various degrees of incidence on the transport and permanence of atmospheric pollutants, pointing out that "urban heat can trap pollutants, whilst rain and snow tend to wash them from the atmosphere into the ground and oceans.
Air quality, he mentioned, is critical in terms of sand and dust content as it reduces visibility, damages crops and affects local climate.
An air-quality awareness programme is being embarked upon the WMO and its membership, he disclosed.
The programme seeks to provide the most relevant and authoritative information to decision-makers and the public.
This collaborative effort, he added, requires cooperation of communities and sectors the significance of which the Secretary General disclosed will be reflected in the context of the World Climate Conference scheduled to be held in Geneva from 31 August to 4th September this year.
He expressed the hope that this year's theme will contribute to further engage the membership of the organization and partners at the highest level.
By A.R. Gomda