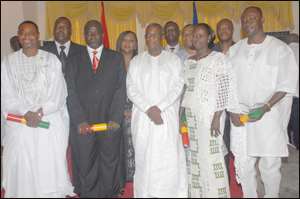 Deputy Ministers of State with prez. Mills ANOTHER SET of Deputy Ministers of State has been sworn-in by president John Evans Atta Mills in a solemn ceremony held at the Osu Castle in Accra.
The new Deputy Ministers were: Reuben Nii Nortey Dua, Deputy Minister for Youth and Sports, Henry Ford Kamel, Deputy Minister for Lands and Natural Resources, John Gyetuah, Deputy Minister of Trade and Industry, Ms. Hawawu Boya Gariba, Deputy Minister for Women and Children's Affairs, Moses Mabengba, Deputy Minister for the Northern Region, Eric Opoku, Deputy Minister for the Brong-Ahafo Region and Cezario Kale, Deputy Minister for the Upper West Region.
They swore three oaths; the oaths of Allegiance, Office and Secrecy, witnessed by Secretary to the President, Bebaako Mensah, Alhaji Seidu Amadu, Minister of State at the Presidency, Dr. Valerie Sawyerr, Deputy Chief of Staff, Mahama Ayariga, Government's Spokesperson, Members of Parliament, various family members and other government officials.
President Mills reiterated his earlier calls to his ministers to remember the promises the National Democratic Congress (NDC) made to the people based on which they voted them to power.
He reminded them that as politicians, they have a final examination at the end of their four year stewardship as the voters would constitute themselves into external examiners to judge them.
President Mills therefore urged the deputies to assist their ministers to succeed and that the success or otherwise failure of their ministers would have a reflection on them.
He assured them of his faith and trust in them and urged them to "serve the people and not lord it over them."
Earlier, Dr. Sawyerr admonished the deputy ministers not to allow the system to drag them down but use their position to streamline the system.
She urged them to endeavour to ensure a "well-oiled machinery" to make government activities move smoothly without any hindrance.
Speaking on behalf of his colleagues, Nii Nortey Dua, who is also the MP for Ledzokuku, thanked the president for the confidence and trust in them and assured him of their "diligence, faithfulness and responsibilities".
He promised that they would cooperate with their Ministers to ensure that the promises made to the electorate by the NDC, would be fulfilled.
By Wisdom Peter Awuku