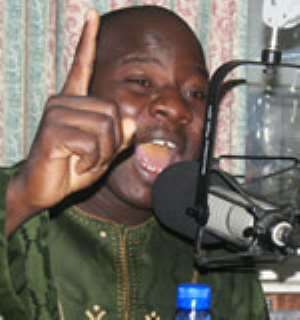 Presidential spokesperson Mahama Ayariga has dismissed media reports that there is 'bad-blood' between himself and head of communications Koku Anyidoho.
The Friday March 20th 2009 edition of the Statesman newspaper headlined "Ayariga, Koku clutch throats" alleges the two men are flexing muscles in a show of 'macho-fantasy' over who has the last say in the president's line of communication.
The reports come in the wake of criticisms that there will be duplication of responsibility between the spokesperson and head of communications, a criticism Mr. Anyidoho has been quick to dismiss.
But on Front Page Joy FM's current affairs programme Mahama Ayariga maintains there is no personality clash such problems in communication.
He explains his role is to give interpretation to the president's communication which ostensibly is prepared by Koku Anyidoho head of communications.
Mahama Ayariga added Mr. Anyidoho is playing a complimentary role.
"For instance I'm here, the president is not sleeping, the president is working and there are colleagues who are sitting with him as he works. If something happens now at the presidency I can't tell you what happened but there is a colleague who is there to tell you exactly what happened.
He said the media must rather be interested in the smooth flow of information and how accurate it is.
Story by Nathan Gadugah