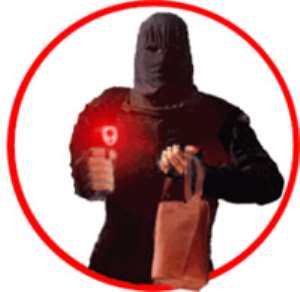 Mr Kojo Asomani 27, was on Wednesday shot and killed at Nsusuoso, a suburb of Agona Swedru when six armed robbers invaded the premises of Mr Kwame Eyison, a photographer.
They made away with a DVD player, cameras, mobile phones and 2,300 Ghana Cedis from the house.
Agona Swedru Divisional Police Commander, Chief Superintendent Owusu Donyinah, disclosed this to Ghana News Agency at Agona Swedru on Thursday.
He said after they had shot Asomani, they dumped him in one of the rooms, locked him up and entered the house of Mr Kweku Adu, a mobile phone dealer.
Police Chief Superintendent Donyinah said when Asomani heard the warning shots and noise from Mr Eyison's house, he went came out from his room in another house and in the process was shot in both legs by one of the armed robbers and died at the Swedru Government Hospital shortly after admission.
He said the armed robbers took away mobile phones and a DVD player from the house of Mr Adu and the police were investigating the robbery.
Police Chief Superintendent Donyinah said police night patrols in the municipality and its environs would be intensified, while the Police Taskforce would continue its work begun since November last year.
He said the Agona West Municipal Assembly had provided four mobile phones for personnel of the taskforce and the numbers were 0285283850, 0285283851, 0285283853 and 0285283854.
Police Chief Superintendent Donyinah said the municipality had been zoned into four and each zone allocated a mobile phone for the public to inform the police of any crime and urged the residents to be interested in their own security and be conversant with the mobile phone numbers.
GNA