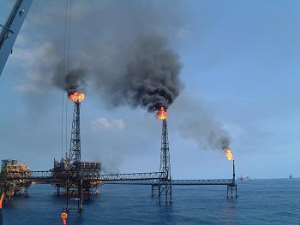 Tullow oil fields Tullow Oil Ghana Limited (TGL) has launched its local human resource capacity development plan for Ghana's upstream petroleum industry with the sponsorship of 14 graduates to pursue practical studies in various disciplines in oil and gas exploration and production.
Twelve of the 14 engineers, all young graduate employees of the Ghana National Petroleum Corporation (GNPC), left Accra last week for London and Cape Town, from where they will be assigned to specialised institutions in the United Kingdom and South Africa.
Two engineers will be assigned to the company's Ghanaian exploration drilling activities which are currently in progress and will remain at the TGL's head office in Accra.
All graduates will pursue specialised technical on-the-job training and industrial courses in petroleum engineering, geology, environmental engineering and other oil industry-related study programmes within the next two years.
Tullow officials say they are certain that some of the beneficiaries will eventually merit more advanced studies after these initial courses.
GNPC, the regulator of Ghana's upstream oil and gas industry and one of Tullow's key partners in the development of the Jubilee Fields, has placed the development of local capacity and the systematic building of a strong and indigenous human resource base for the emerging petro-chemical industry at the top of its agenda - an agenda which officials at Tullow Oil say are in line with their company's global operational principles.
Mr Kofi Esson, Government & External Relations manager of Tullow Oil Ghana, told journalists at the close of a two-week induction programme organised in Accra for the beneficiaries that his company is happy to replicate in Ghana what it has already achieved in Bangladesh, where Tullow maintains only three key expatriates, leaving the bulk of operations in the hands of an indigenous Bangladeshi workforce.
'At this stage of the development of Ghana's oil and gas industry, it is important that we help to ensure that the regulator itself (GNPC) is sufficiently grounded in terms of human resource capacity,' Mr Esson said.
The induction, primary organised to give the young engineers some preliminary insights into seismic survey, drilling and oil production, also touched on the fundamentals of Tullow Plc's global work culture, ethic and values system and also to align the young engineers to the company's unique practices in exploration, development and production of petroleum and gas.
Tullow Oil Plc is one of Europe's leading independent exploration and production companies operating a balanced worldwide portfolio which stretches across Africa, Europe, South Asia and South America. The company's recent exploratory successes in the Jubilee and adjoining fields have made Ghana one of Tullow's most important concessions.