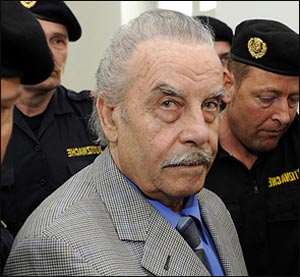 Josef Fritzl arrives in court. INCEST beast Josef Fritzl has been sentenced to life in a psychiatric hospital. He was today found guilty of all the charges he faced including murder by negligence of one of the children he fathered with his captive daughter Elisabeth.
Court officials said Fritzl accepted the verdict in a very composed way.
Just hours before the verdicts were delivered, the cellar monster told the court: "I regret it with all my heart ... I can't make it right anymore."
He will now be assessed to decide if his twisted personality can be changed through therapy.
Yesterday, Fritzl confessed to his hideous crimes after being broken by his daughter — just as HE broke HER during her 24 years of captivity.
The sex fiend's iron will finally cracked as he pondered the vivid 11-hour testimony Elisabeth delivered at his trial.
He told a hushed court: "It was only yesterday I realised for the first time how cruel I was to Elisabeth. I never realised it was such a bad situation."
The statement still beggared belief in all those who heard it. But for Elisabeth — said during the trial to have had her spirit crushed by her imprisonment and Fritzl's constant sex attacks — it was a kind of grim revenge.
Fritzl had already admitted false imprisonment and incest.
He will return to St Poelten jail before being transferred to an institution for mentally ill offenders.
Officials said his condition would be re-evaluated in 15 years and, in theory, if he were deemed cured, he could be released. TheSun
But both Fritzl and his lawyer have said they expected he would have to spend the rest of his life incarcerated.