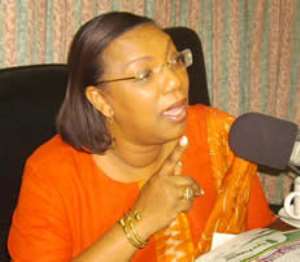 The Attorney General and Minister of Justice, Mrs Betty Mould-Iddrisu on Thursday challenged law faculties to be innovative and develop courses that would enhance the quality of legal education in the country.
"Fifty years of legal education in Ghana provides us with the opportunity to examine how far we have come, how successful it has been and what challenges we have to meet".
Mrs Mould-Iddrisu was speaking at the opening of the 1st Law Teachers Conference in Accra organized by the Faculty of Law of the University of Ghana, Legon.
The two-day conference is on the theme: "Fifty years of legal education in Ghana: Achievements and Prospects".
The meeting also provides opportunities for discussions about the future direction of legal education in Ghana and what could be done to improve it.
She said it was important that as a nation, "we pay serious attention to legal education particularly the quality and the numbers of those trained to serve the country as lawyers".
This is because eventually, all these could impact on the socio-economic and political life of the nation.
She said lawyers imbued with the right or wrong values could impact positively or negatively on the nation's development as well as the legal knowledge and professional attitude of the individual.
"That is why we must be interested in the quality of our legal education and that is why the Ministry will be very interested in seeing that, the best quality of legal education is provided in this country," she added.
Mrs Mould-Iddrisu also questioned how long the country could maintain the excellent performance of its law graduates in many fields, both home and outside, if it did not sustain and improve upon the quality of its legal education that the nation was known for.
She said the faculty of law at the University of Ghana was no longer the only faculty that produced graduates since other faculties in Kumasi and Cape Coast were equally preparing to launch LLB Programmes as well.
She said one important question that the development raised was the capacity of the law school to absorb all potential graduates of the faculties that understandably would carry high hopes of expectation into the Ghana Schools of Law.
Professor Stephen Offei, Dean, Faculty of Law, KNUST called for the reform of legal education in Ghana to meet current challenges.
He said legal education at Legon or KNUST must be more than simply training young lawyers for practice either in Accra or in any part of the country.
He said, "if the nation had to address the present rather ambiguous position of lawyers in Ghana and the public's ambivalence to law services then we need to more than focus our resources and energies on law degrees and professional certificates".
Prof Offei announced the establishment of an Institute of Advance Legal Studies, Ghana (GIALS) by the KNUST.
He said GIALS is positioned to fill a vacuum in both advance research and legal education provision