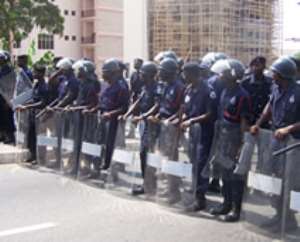 A rally to sensitize the public on migration-related issues contained in the ECOWAS protocol was on Thursday held at Paga with a call on the security agencies and the media to help check drug peddling, prostitution and smuggling at the frontiers of member countries.
The rally, which was jointly organized by the Open Society Initiative for West Africa (OSIWA) and the West African Civil Society Forum (WACSOF), was to increase awareness on the free movement of persons, residence and establishments as well as other supplementary protocols geared towards encouraging the creation of a borderless West Africa.
An address read for the Life Patron of WASCOF, Professor Oumar N'dongo, said even though the protocols were ratified by member states about 30 years ago, not much had been achieved in the area of free movement of persons.
Prof N'dongo said to make the concept work effectively, it was important that citizens of member countries were educated enough on the migration aspects of the protocols so that they could as individuals defend themselves when they are confronted with emigration issues.
He said unrestricted movement of persons and goods within the sub-region was crucial in ensuring economic growth in the sub-region and that it was possible to realize this dream when the people are well educated and understand the rules.
Prof N'dongo conceded that there were some challenges contained in the protocols that had received little attention from civil society.
"Such challenges should not take our focus from the goal of creating a borderless ECOWAS."
Prof N'dongo said the economic benefits contained in the protocol surmount the threats posed "if as a people we work to support the agencies that are mandated to implement the protocols".
Mr. Baffour Addo, Business Manager of Abusua Foundation, an NGO in Ghana collaborating with WACSOF, said it was important to engage stakeholders at the lower level of the protocols on migration to speed up progress at attaining a trans-national society in the sub-region.
In a solidarity message in support of the programme, a policeman at the Paga post, Corporal Terry Sampson, pledged that the police would continue to discharge its duties at ensuring that criminal activities by migrants are halted.
He said the police would ensure that migrants or ECOWAS citizens travelling along the borders are fully protected.
Earlier, the participants including students from the Navrongo campus of the University for Development Studies (UDS), students from the Navrongo Secondary School as well as teachers drawn from the basic schools, undertook a one-hour procession through the street of Paga.