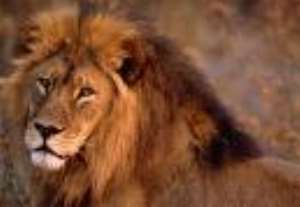 Togbe Dzamesi II, Chief of Adaklu-Wuakpe, who battled a lion in a 45-minute duel in the jungle at Wuakpe near Wumenu, is recovering from multiple wounds the beast inflicted on his left arm and left thigh.
This was contrary to rumours that the 51-year-old farmer had died from his wounds at the Volta Regional Hospital.
When the Ghana News Agency called at the hospital on Thursday to verify the rumour, Togbe Dzamesi was seen praying on his hospital bed.
He told the GNA, "I'm feeling much better than ever. The pains are less, I eat and sleep well."
Togbe Dzamesi said he was grateful to hospital personnel who attended to him and expressed gratitude to all sympathizers.
Ms. Margaret Appiah, who is in charge of the male surgical ward, told the GNA that the Chief was responding fast to treatment.
She said he is now able to visit the washroom unaided.
Ms Appiah appealed to the public to desist from spreading false information about the health of patients because of the psychological effect that could have on such patients.