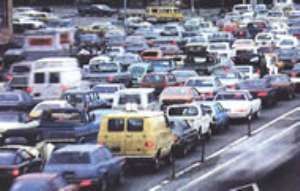 Over 300 hundred second-hand car dealers in Accra on Thursday hit the streets in protest over eviction notice handed them by the government.
Their continued stay on the road corridors is said to be stalling the Tetteh Quarshie interchange extension project which is to begin this month, but the protesters insist their concerns must first be addressed.
They are demanding compensation from government as well as a place to be relocated before budging.
Chanting and carrying placards with different inscriptions, the car dealers say they will petition the Ministers of Transport, Lands and Forestry and the American Embassy.
The road extension is part of the Millenium Challenge Development Project championed by the US and aimed at developing road infrastructure as well as agriculture in the country.
Financial Secretary of the car dealers, Augustine Duodu told Joy News their eviction will lead to several job losses and appealed to President John Evans Atta Mills to come to their aid.
Some of the protesters say the eviction notice came at short time and require more time and place for resettlement.
But the head of the Transport and Infrastructure project of the Millenium Challenge Authority, John Koranteng York has dismissed the claims by the car dealers.
He said any delay would lead to the bloating of expenditure needed to construct the road.
According to him, the car dealers are part of over 1500 affected persons adequately compensated and expressed worries over their continued stay.
He said subtle mechanisms would be employed to drive away the embattled car dealers without resorting to violence.
The car dealers have until Friday 20th March to vacate the area.
Story by Nathan Gadugah