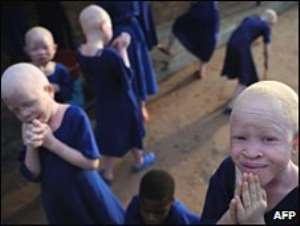 Albinism is a health condition in which a person has little or no skin pigment
Albinos destined for Bukruwa in the Eastern Region risk being killed for ritual purposes, warns Nana Agyare Osei Tutu III, Chief of the town.
This is because centuries-old tradition of the small town suggests sacrificing albinos to the gods of the town brings good omen to its indigens.
Albinism is a health condition in which a person has little or no skin pigment.
The latest revelation follows stories in the media about the murder of albinos in Tanzania for spiritual medicine. Already such reports have sparked international furore.
Nana Agyare however warned that the safety of persons living with the health condition can only be guaranteed if they seek refuge at a Christian Quarters on the outskirts of the town.
Transactions involving albinos cannot be conducted beyond the confines of the quarters, the chief said.
He stressed he could not reverse the practice since it has formed part of the town's tradition for centuries.
The chief also said although he would have wished that the custom be abolished, he is in quandary as to how to approach it.
"We came to meet it, so we don't have anything to do about it," Nana Agyare said.
There has not been any recent killing of albinos in the town.
In a reaction to the chief's comments however, Mr John Davies, president of the Albino Society of Ghana said the development is rather irrelevant.
He said the practise constitutes an infringement on the fundamental human rights of persons living with albinism.
Mr Davies hinted that the society is currently embarking on a massive educational campaign to sensitise the public on the need not to discriminate against albinos.
The development calls for serious concern, he stressed.
Story by Fiifi Koomson