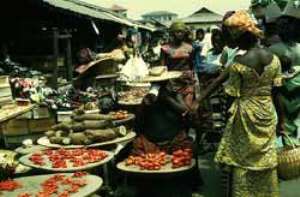 An economist, Kwamena Essilfie Adjei, has played down the soaring commodity prices in recent times and predicted a stable price regime sooner than expected.

His comments come in the wake of lamentations by some traders over the soaring commodity prices in the country.
Food items, cosmetics, building materials are said to have experienced price hikes in recent times with traders divided over the causes of the price change.
Some traders in Accra told Joy Correspondent, Sammy Darko, the increasing depreciation of the cedi is to blame.
According to one of the traders, the prices of some products from Unilever Ghana Ltd have been generally stable, even though a few of the products have slightly inched up.
He said a tin of milk is now selling at GHp8.00 from GHp7.50. The prices of Pharmapeu and Imperial Leather soaps have all been increased slightly.

With inflation at the end of February hitting 20.3%, the highest in five years, the answer to the price increases could not have been too far to find.
But Mr. Essilfie told Joy News on Thursday, seasonal elements, balance of payments deficit and the hikes in crude oil and food prices on the international market have all contributed to the increases in commodity prices in the country.
He however hinted prices of commodities are expected to fall in the coming months.
He noted the price change for commodities at the end of February stood at 2% a reduction from the 2.64% at the end of January.
He is hopeful prices of commodities will be stable in no time.
Story by Nathan Gadugah