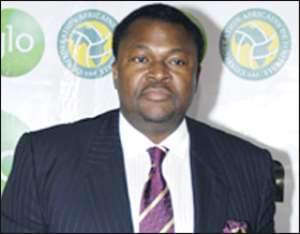 Mike Adenuga Competition in the mobile telephony industry is expected to intensify further as Globacom Telecommunication Services, otherwise known as Glo Mobile, is preparing to unleash its operations formally in the country by June this year.
The firm which has deepened its brand management so as to woo customers, was expected to start operations at the beginning of this year. It became a major sponsor of Ghana's senior national team, the Black Stars when it recently signed a $9 million deal for a five-year period with the Ghana Football Association.
Fresh reports reaching CITY & BUSINESS GUIDE indicate that the telecommunication giant has almost completed preparations to launch its operations in a whirl-wind fashion in the next three months.
According to the information, the company has concluded studies with regard to kick-starting its business in the country and is expected to roll out on a 3G licence so as to realize its business strategy. In addition, its corporate business office will be sited at the plush Airport City area in Accra.  
The paper further gathers that the telecommunication firm which has targeted to hit 45 million subscribers by the end of this year, will roll out its services alongside some cheap phones, just as it did in Nigeria to become the market leader. It is also expected to reduce its call rates significantly to entice most Ghanaians to jump onto its network.
According to January figures from the National Communication Authority, MTN is the market leader in the industry with a 6,592,243 subscriber base, representing 55.1 percent followed by Tigo, which has 2,785,714 million subscribers, representing 23.3 percent and Vodafone Onetouch, having 1,733,711, representing 14.5 percent.
The fifth mobile service provider, Zain in its first two months of operations was able to attract about 300,000 customers but now has 463,824, representing 3.9 percent of the market share whilst Kasapa Telecom has 386,991 customers.  
However, Glo is unperturbed about this challenge because it has embarked upon a similar episode in Nigeria where it took the market by storm.
Glo became the sixth mobile service operator last year when it paid the $50.1 million licence fee to the National Communication Authority (NCA) to offer cellular mobile services in Ghana.
Since then, it has targeted to rule Africa with the signing of a multi-billion dollar network expansion contract with telecommunications vendor, Alcatel-Lucent to upgrade network and deploy hi-tech infrastructure in Nigeria and Africa.
The expansion deal also includes the linkage of 2G and 3G facilities and the provision of thousands of additional indoor and outdoor Basic Trans-receiver Stations (BTS).
Globacom and Alcatel-Lucent said the expansion project would significantly increase the existing capacity of Glo network in Nigeria.
The planned core access network extension and subscriber data management has an enhanced capacity that significantly improves data and voice clarity. It also comes with a new General Package Radio Services (GPRS) backbone of seamless and multi-media contexts.
By Charles Nixon Yeboah