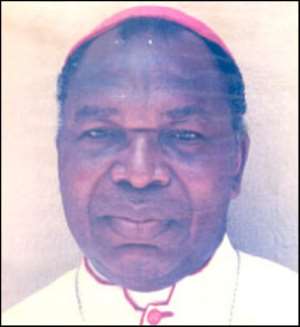 Contrary to the perception that Ashantis and Ewes are enemies, the Catholic Bishop of the Ho Diocese, Most Reverend Kofi Anani Lodonu, thinks otherwise; he says Ashantis and Ewes are great friends.
Bishop Lodonu spoke to the Daily Dispatch after expressing his view on the hostilities that characterized and nearly marred the 2008 Presidential and the Parliamentary elections at a meeting with political parties and other stakeholders in Ho with the intention to review the last elections in order to improve on the organisation of future elections.
He described as unfortunate, the horrible incidents and utterances that characterized the elections making the whole atmosphere charged, putting the entire country in a state of panic and fear amidst the NDC and NPP accusing each other and the Ashanti and the Volta regions at the centre stage.
He said playing the tribal card in national endeavours especially employing it in national elections, "is very dangerous for the country". He said what seems to be the enmity between the Ashantis and the Ewes could be attributed to the wars fought between the two tribes in the past.
To him wars are part of human nature that occurred throughout the world out of disagreements and craving for the possession of land and others but added that this should not be the basis for enmity because these are material things. He noted that the Ashantis fought so many other wars with other tribes such as the Brongs and others but are still friends today, and wondered why it was only the Ashantis and the Ewes who appear to be at constant loggerheads.
"As far as I know the Ashantis and Ewes are not enemies but great friends," Bishop Lodonu emphasized. He observed that one major way that people, tribes, countries are connected is through intermarriages and this is very rife and strong among the Ashantis and the Ewes, and he stressed. "In our educational institutions, Ashantis and Ewes make better friends likewise in many of our social set¬ups and organizations, he added and challenged researchers to launch a study into his assertions to prove him right or wrong.
Bishop Lodonu blamed politicians who played the ethnic card to achieve their parochial interest as people who set tribes against each other, pointing out that politics and elections should not be a do or die affair but an opportunity to serve the people and not to divide them; elections, must be seen as a competition aimed at deepening our democracy, to improve the living conditions of the people.