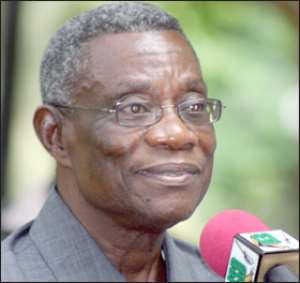 President John Atta Mills President John Evans Atta Mills' innuendo-laden speech at the Osu Castle on Tuesday was aimed at the leadership of the New Patriotic Party (NPP), as presidential spokespersons have let the cat out of the bag.
Mills' Communications Director, Koku Anyidoho and Presidential Spokesperson, Mahama Ayariga did not mince words when they said the President's combative speech was directed at the NPP.
President Mills made the controversial speech when a delegation of the Ghana Journalists' Association (GJA) called on him at the Castle, which according to political analysts, left the journalists and Ghanaians searching for the intended targets of the First Gentleman.
Apart from being stunned by the unprecedented pique of the President, his hosts were at sea as to which group of Ghanaians he was directing his finger-pointing at, knowing that nobody had challenged his Presidency, except for his party founder and mentor, Jerry John Rawlings, who had said on several platforms that President Mills was not in control.
Matters were laid to rest yesterday however when Koku Anyidoho  spoke on air, indicating that his boss was scowling at the leadership of the NPP for their temerity in organizing a press conference on what they consider to be the state of insecurity in the country.
In fact his colleague, Mahama Ayariga, also baring his heart out on another radio channel on the same subject, gnashed his teeth over the NPP's remarks that they would advise themselves should the President fail to do something about the state of insecurity in the country.
"What do they mean by that?" he asked rhetorically.
The Presidential Spokesperson, Mahama Ayariga however dismissed public allegations that President Mills was jealous over the welcome reception for the NPP flagbearer, Nana Addo Dankwa Akufo-Addo.  
The public had alleged that President Mills was jealous and that made him issue his warning that "Let no one mistake any respect for peaceful existence for weakness, timidity, unwillingness or inability to enforce the laws" during his interaction with the GJA.
In an interview with Peace Fm, Mr. Ayariga said President Mills was never jealous of Nana Addo, because he was not in competition with the NPP flag-bearer.
 He said the President made that statement in reaction to the manner a section of the public had been thinking that he (President) was weak regarding how to rule the nation.
By A.R. Gomda