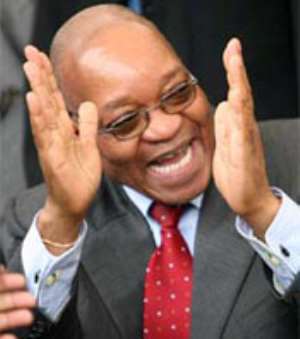 South African prosecutors are reportedly considering dropping charges against Jacob Zuma, the man widely tipped to be the next president.
The prosecutors say they are urgently considering new submissions by Mr Zuma's lawyers, which come a month before elections in South Africa.
Prosecutors denied reports they have already decided to drop the case.
The ANC leader denies corruption over an arms deal in 1999, saying he is the victim of a political conspiracy.
Final hearings in the case were delayed until after elections in April, raising the possibility that the next president could face trial soon after taking office.
National Prosecuting Authority (NPA) Tlali Tlali told Reuters news agency: "Mr Zuma has made representations to the NPA... possibly to change the complexion of the decision that has been taken by the NPA to institute criminal proceedings against him.
"The matter is under consideration."
The BBC's Peter Biles in Johannesburg says it is thought that Mr Zuma's submissions are a bid to have the corruption charges against him withdrawn.
But opposition parties have condemned any move to drop charges against the African National Congress leader, saying it would be a clear interference in the judiciary by the government.
Mr Zuma - who denies charges of graft, money-laundering and racketeering - was first charged in 2005, but has yet to face trial.
The governing ANC faces its biggest challenge since the end of apartheid in 1994, but it is still widely expected to win the elections, with Mr Zuma widely tipped to win the presidency.