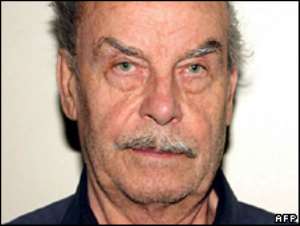 Josef Fritzl, the Austrian accused of imprisoning his daughter and fathering seven children with her, has changed his pleas to guilty on all charges.
Fritzl said video testimony from his daughter, played in court on Tuesday, made him change his mind.
Josef Fritzl locked up his daughter for 24 years. The charges include rape, incest, murder and enslavement.
A court doctor has recommended that the 73-year-old be sent to a psychiatric facility for treatment.
At the start of his trial on Monday, Fritzl denied the charges of enslavement and murdering one of the children soon after its birth.
His surprise turnabout also altered his plea from "partial" to guilty on the charge of rape.
Fritzl's lawyer said watching his daughter's testimony had profoundly affected him, "destroying" his emotions.
Proceedings have ended for the day. A verdict and sentencing is expected on Thursday.
'Sorry'
Wearing a grey suit and a blue shirt, Fritzl did not hide his face on Wednesday, as he had done for the past two days, when he was led into the courtroom in St Poelten, west of Vienna.
As proceedings began, the judge asked Fritzl how he felt after watching the videotaped testimony of his daughter.
In a low voice he said: "I plead guilty."
"Your daughter told you the baby was suffering from breathing problems," the judge said. "You had time to get first aid."
Fritzl said: "I was hoping the little one would survive but I should have done something. I don't know why I didn't help. I just lost sight [of the issue]."
He then said he was "sorry".
Speaking later outside court, Fritzl's lawyer Rudolf Mayer said his daughter's testimony had allowed him to see for the first time the impact of his actions.
Describing his client, Mr Mayer said Fritzl was "a person who had only one idea - 'I must always be full of power'".
Mr Mayer said he was "very, very surprised" by Fritzl's plea reversal, but that Fritzl hoped his change of plea would help his victims.
The court later heard psychiatrist Dr Adelheid Kastner say there was a danger Fritzl would repeat his behaviour if he was left untreated.
She recommended that he be sent to a psychiatric facility, although strictly speaking he was not insane.
"What I told the court was that Mr Fritzl has never been mentally ill," she told the BBC outside the courtroom, "and that he has always been sane in the legal sense of the word - that he was always able to discern between right and wrong, and that he always knew what he did was wrong."
She said Fritzl had an overwhelming need to dominate and control, which she said stemmed from his childhood.
She said he was an unwanted, unloved child, intelligent, who had grown up determined to have somebody who belonged to him alone.
He was emotionally deficient but that he knew what he was doing was wrong, she added.
Soundproofed chamber
The court viewed the testimony from Fritzl's daughter on Tuesday.
Austrian media reports said his daughter Elisabeth was in a private viewing chamber in the courthouse at the time. However, officials refused to confirm this, saying only that a number of unnamed people had been there.
Fritzl lured his 18-year-old daughter into a cellar with windowless, soundproofed chambers beneath their house in Amstetten in 1984.
He imprisoned her there and raped her repeatedly over a number of years.
The daughter and three of the children fathered by Fritzl were kept captive in the cellar until the case came to light in April last year, when one of the children became seriously ill and was taken to hospital.
He was accused of murdering one of newborn twin boys his daughter gave birth to in 1996, having failed to arrange medical care for the ailing infant.
Credit: BBC