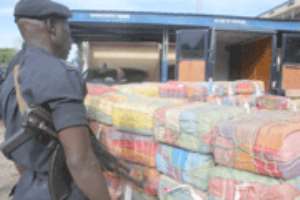 Mr. Cletus Avoka, Minister of the Interior, on Wednesday observed that illicit drug lords were capitalizing on the existing peace prevailing in the country to turn it into transit country.
He said: "Drug trafficking generates crime yet these wicked drug traffickers themselves prefer to transact their business in peaceful environments where the safety of their cargo and money can be guaranteed."
Speaking at a joint Ghana Government–United Nations Office on Drugs Control (UNODC) conference under the theme; "Ghana against Drugs and Crime" in Accra, Mr. Avoka said Ghana's maritime domain was being exploited by international drug trafficking syndicates because of the logistical constraints of the Ghana Navy.
He said the situation might be further aggravated when Ghana's oil wells became fully operational and attracted more seafaring vessels and stressed the need for the government to source funding to resource the Ghana Navy to enable them to undertake dedicated anti-narcotics patrols in the country's territorial waters.
The conference was to re-emphasise the threats illicit drugs bring to nations with regard to security, health, good governance and education among others.
It is also aimed at finding integrated and pragmatic solutions to the multi-faceted drug problem.
Mr. Avoka said the forum became necessary due to the masquerading drug canker that had invaded the West African sub-region and more specifically its ramifications on the country.
He said Ghana was not only profusely being used as a transit country but also as a rendezvous by international drug traffickers and money launderers.
"Wherever drug trafficking occurs, a resultant number of users and addicts are also bred at an exponential rate. Sadly, these are situations that have created and continue to create a sea of cosmopolitan drug peddlers, addicts and wasted junkies in our towns and villages."
Mr. Avoka said the negative phenomenon had also triggered vicious cycles of crime and those were real sources of worry to all well meaning citizens.
He said the theme pre-empted the need for a concerted national approach if Ghana was to succeed in her drugs and crime control efforts and called on national security agencies to present a united front in the war against illicit drugs.

Dr Kwesi Anning, Head of Conflict Prevention, Management and Resolution Department, Kofi Annan International Peacekeeping Training Centre, said
the most serious challenges facing West African
states were not only the influx of narcotics into
the sub-region and their impact on both public and private sector institutions, but the increasing monetization and "commodification of drugs" leading to individualism in the acquisition or accumulation of private wealth and status.
He said drugs flown through the sub-region had become so massive that the West Coast was now popularly referred to as the "coke coast".
Dr Anning said between 2005 and 2007, 33 tons of cocaine was seized on its way to Europe via West Africa.
He said prior to that time, seizures for the entire continent had already exceeded one ton annually and called for the establishment of a strong coordination mechanism to forge close links with member states' governments and civil institutions and organisations involved in drug control to achieve better coordination in the control of drug trafficking and abuse in the sub-region.
Dr Joseph B Asare, Consultant Psychiatrist, said the main development causing concern was the rapid increase in the smuggling of cocaine from Latin America through West and Central Africa into Europe.
He said according to Interpol between 200 to 300 tons of cocaine was smuggled to Europe every year and a growing proportion of the consignment passed through West Africa, where it was stockpiled, repackaged before being transported to Europe.
He said about 80 per cent of drug related admissions to the Accra Psychiatric Hospital were between the ages of 16 and 29 years.
"As more youth become addicted, our investment in our children and the human resource base of our country is being threatened."
Dr Asare said to prevent people from using the drugs that had found their way into the communities, demand reduction activities such as awareness creation about the consequences of drug abuse should be enhanced in schools and communities.
He also called for the provision of treatment centres with treatment regimes that took into account the local conditions in a least five regions.
Mrs Elizabeth Robertson, Acting Inspector General of Police, said the Ghana Police Service had been in the forefront of combating illicit drug trafficking.
She said their primary goal was to prevent drug trafficking and use, but when that failed the service had to respond with investigation, detection and apprehension of the perpetrators.
She therefore called for active and committed support of the public to operate and ensure that criminals were brought to book.
Mr Antonio Mazzitelli, UNODC Regional Representative, said drug trafficking might be the fourth or fifth financial item in the world, adding that Bolivia, Peru and Columbia alone produced 992 metric tons of cocaine and 41,400 metric tons of cannabis annually, representing an estimated annual financial turnover of 400 billion dollars.
GNA