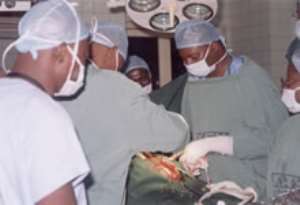 The Ghana Medical Association has kicked against the implementation of the single spine salary structure set to begin later this year.
According to the group, the salary structure lacks scientific basis and puts them at a disadvantage.
The single spine salary structure which was mooted in 2006 has gone through series of negotiations among various workers unions in a bid to replace the Ghana Universal Salary Structure (GUSS) which has many distortions.
Over the years the country has been plagued by agitations and strikes by some workers as a result of these salary distortions, posing a great threat to the country's industrial harmony.
The single spine salary structure was therefore expected to address some of these anomalies.
But the president of the Ghana Medical Association Dr. Adom Winful at a press conference in Accra on Wednesday insists the single spine salary structure is unfavourable to medical doctors.
He said there are relativities in remunerations as a result of different functions performed by the medical doctors and health workers which the single spine salary structure fails to take into consideration.
Dr. Winful stressed, the relativities were captured in the GUSS and the current salary structure being enjoyed and finds it rather worrying that the single spine salary structure makes no reference to it.
"The single spine salary seems to have brought every body up whilst the doctor remains static relative to each other. There have been serious distortions in the relativities of remunerations and that is our bone of contention," he argued.
They have threatened to resist the implementation of the new salary structure.
Story by Nathan Gadugah