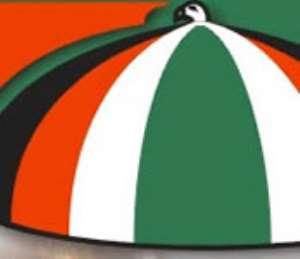 The youth wing of the National Democratic Congress (NDC) at Fanti New Town, in Kumasi, has challenged the Ashanti Regional Police Command over claims that Linford Owuo, an NDC activist, currently in prison custody, is an armed robber.
There had been a lot of hullabaloo over the arrest of Owuo, popularly called 'CD' who allegedly led a group to burn the Daewoo saloon car of Appiah Stadium, a serial caller of the New Patriotic Party (NPP). The police allege that he is an armed robber.
At a press briefing on Saturday, the NDC youth wing cha11enged the police command to come out with a single case of armed robbery involving Owuo to prove their point.
According to the spokesperson, Abeiku Bobson, chairman of the youth wing, it was a ploy by the police to ruin the reputation of Owuo who was arrested on March 5, amid sporadic gunshots by the police.
Throwing light on what led to the burning of Appiah Stadium's car, Mr Bobson indicated that, it all started when one Sammy K., a Fox FM presenter, and a friend of Appiah Stadium visited Owuo at his shop at Fanti New Town to lure him into friendship as he was made to believe that Appiah Stadium wanted to cross carpet.
Appiah Stadium was said to have picked Owuo in his car on March 3, at 11.30 a.m. to see some friends, but Owuo sensed danger when he saw a gun and some machetes in the car.
Owuo, Bobson said, asked Appiah Stadium to stop because they wanted to kill him but he (Appiah Stadium) tried to attack him.
The spokesperson claimed that Owuo was overpowered and as he was shouting, some neighbours came there to support him as they recognised him, and that prompted Appiah Stadium to run away leaving the car behind.
Prior to that, Owuo had been accused of leading his group to beat up an assemblyman of the Asem Electoral Area, who is said to be an activist of the New Patriotic Party (NPP).
In view of this, tension has gradually been building up in the Kumasi metropolis as the NPP youth are gearing up for a show down with their NDC counterparts.
Credit: Times