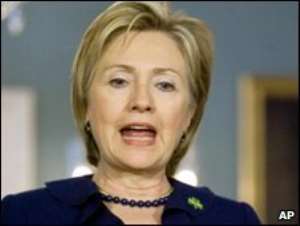 Hillary Clinton said 1.4 million refugees were at risk
The US secretary of state has said Sudanese President Omar al-Bashir will be held responsible for "every single death" in the refugee camps of Darfur.
Hillary Clinton said Khartoum's recent decision to expel 13 foreign aid agencies would cause "untold misery".
Sudan threw out the groups after Mr Bashir was indicted by the war crimes court for alleged war crimes in Darfur.
Meanwhile President Barack Obama is set to name a retired US Air Force general as his special envoy to Sudan later.
General Scott Gration - an Africa expert and a Swahili speaker - accompanied Mr Obama on a trip to Africa in 2006 and was an adviser during his presidential campaign.
'Horrendous situation'
Speaking in Washington on Tuesday, Mrs Clinton said of Sudan's decision to expel the aid groups earlier this month: "This is a horrendous situation that is going to cause untold misery and suffering for the people of Darfur, particularly those in the refugee camps.
"The real question is what kind of pressure can be brought to bear on President Bashir and the government in Khartoum to understand that they will be held responsible for every single death that occurs in those camps."
She told reporters the move was endangering the lives of 1.4 million refugees.
Meanwhile, UN Secretary General Ban Ki-moon said he was "deeply concerned" by the threat to UN personnel after Tuesday's killing by unknown attackers of a UN peacekeeper in South Darfur.
The ambush in Nyala was the second attack such since the 4 March International Criminal Court indictment against Sudan's president which has sent tensions rising in Darfur.
Four peacekeepers were wounded in a shooting near Geneina in western Darfur last week.
On Monday, Sudan said foreign aid groups, which carry out the bulk of humanitarian work in Darfur, would no longer be allowed to work on the ground in a year's time.
Khartoum said Sudanese aid agencies would take over.