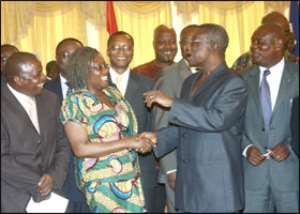 President Mills in a tete-a-tete with journalists President John Evans Atta Mills was in an unusual element yesterday when he told Ghanaians that there is only one President in the country and that he has directed the law enforcement agencies to carry out their duties to the letter no matter whose ox is gored.
Leading members of the Ghana Journalists Association (GJA) who were at the Castle to pay him a courtesy call could not believe their ears as their host went into overdrive in a bid to address "certain pertinent issues in the country".
There was no sign that the First Gentleman was going to be robust especially when he applied a little humour in a preamble to his remarks.
Many people, he said, "have been asking about whatever happened to Atta Mills; here I am."
When he went into the real issues in response to the remarks by the President of the GJA, Ransford Tetteh, it was without doubt, fireworks.
As if some persons are seeking to question his authority as President, he said in 2008, the people of Ghana decided to have him as leader. This decision, he said, must be treated as such if even some persons do not feel comfortable with the development.
"There is no number one and number two presidents in the country. There is only one government and one president," he said.
Certain developments, he went on, gave him cause to worry, adding, "I believe in the Constitution, the rule of law and due process."
Nobody, he warned, should misconstrue his love for peace for timidity, warning, "I have ordered the law enforcement agencies to enforce the law to the letter."
In attendance were the Minister of Information, Zita Sabah Okaikoi; and Minister of Communications, Haruna Iddrisu. The GJA team members included Bight Blewu, General Secretary; Yaa Oforiwaa Asare-Peasah, Treasurer; Kweku Rockson, GIJ Rector; Ms Ajoa Afari-Yeboah, immediate President of GJA; and Gina Ama Blay, PRINPAG President.
Turning to those holding public office, President Mills warned that they should be ready to account for their stewardship, and that the demand for accountability which his government is making on public officers is not harassment.
The report of the Transition Team, he said, has been submitted to him, adding that this is being studied objectively and impartially. The law would however take its course, he warned.
Burning with anger, he declared: "I'd go after those who broke their oath of office. I swore to uphold and defend the Constitution and this I would do".
The President said he and his government do not want chaos in the country, calling on his compatriots to contribute towards the maintenance of peace. "You may not be happy with Atta Mills as President but that is a fact," he said.
Underscoring his readiness to take criticisms, he referred to an Akan proverb about how a path maker does not know when his path is becoming crooked until his attention is called to that by others.
He scowled at those who, according to him, think they have the divine authority to rule this country and asked that all Ghanaians must live in peace.
President Mills stated that he would not allow the freedom of Ghanaians to be trampled upon, adding that people should be able to stand up and challenge him if he goofs.
His government would not allow intimidation in the country as he warned those entrusted with public responsibilities to be ready to account for their stewardship.
His decision to go into overdrive, he explained, was informed by certain developments in the country, adding that nobody is above the law in Ghana and that he Atta Mills would ensure the rule of law is maintained.
An Atta Mills government would not allow any breach of the law by any group since after all, "we were given a peaceful country".
He told his guests he does not fear heckling and criticisms because of his background as a sports administrator in his 18 years at Legon.
Someone with this kind of experience, he said, can withstand any degree of heckling and criticisms.
This aspect of his remarks without doubt was a reaction to recent media reports about the President's handling of state issues.
He paid tribute to the Ghanaian media and said he would love to interact more frequently with members of the fourth estate of the realm.
President Mills said he would have even loved to visit some of the media organizations, asking practitioners to call on him even if informally.
"Let us focus on those things which unite us. We would not tolerate divisive tendencies," he said, concluding that any group which seeks to disturb the peace being enjoyed by Ghanaians would be stopped in their tracks.
The side attraction of the visit was when the President invited Mrs Gina Ama Blay, the Chief Executive Officer of Western Publications Ltd, publishers of DAILY GUIDE, to come and shake hands with him and take a group photograph.
In his remarks, the GJA President, Ransford Tetteh congratulated the President and announced to him about the impending 60th anniversary celebration of the founding of the GJA.
He expressed pleasure about the assurance by the President to pass the Freedom of Information Bill which has been on hold for all this while.
 "Your Excellency, this country has come a long way in promoting media freedom and freedom of expression since the adoption of constitutional rule in 1993. All the governments since 1993 have in one way or the other deepened the frontiers of media freedom," he said.
Gone are the days when the relationship between government and the media was adversarial, he said, explaining that this was the rationale for such a courtesy call.
There is the need for the regulation of broadcasting in the country to "ensure sanity in the vocation against the backdrop of what happened during the last elections when the public was being incited against the Electoral Commission by a radio station.
"We commend the Ghana Advocacy Steering Committee for a National Broadcasting Law and the Coalition for the Passage of the Freedom of Information Bill for their relentless efforts to get the two draft legislations endorsed by government and subsequently Parliament," he said.
The Ghanaian media, he said, has vowed never to return to the days of the culture of silence but to provide the platform for all citizens to be part of the decision making process.
"For this reason, Mr President, we shall commend you when you make strides in your policies to better the lives of the people.
In the same vein, we urge you to accept criticism of your policies in good faith," he said. GJA, he said, would wish the National Democratic Congress (NDC) government could consider supporting further development of the Ghana International Press Centre to play greater roles in media development.
By A.R. Gomda