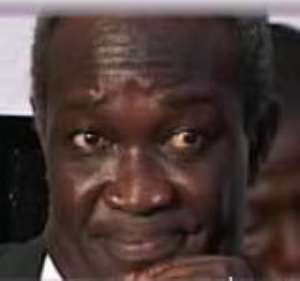 Mr. Kwamena Ahwoi, a former Minister of Local Government and Rural Development has said that opposition politicians need to be involved in crucial policy formulation processes and other national activities if such programmes are to have the blessing of all and survive governments.
Mr. Ahwoi said the lack of consensus on major national policies has meant that successive governments tinker with such policies to suit their own interpretation of them, a situation which does not allow long term planning and the effective implementation of policies.
"If you are a minister, you are invited to all kinds of programmes, including speech and prize giving days, but when you are in opposition it is as if you have lost all your ideas", Mr. Ahwoi said at a two-day stakeholder workshop which he chaired.
The workshop, under the theme, 'Reviewing Legislative and Policy Framework for Effective Decentralisation' was organised by Public Agenda and sponsored by GTZ, a German development organisation.
The Minister of Local Government and Rural Development, Mr. Joseph Yieleh Chereh, who was the guest of honour, supported Mr. Ahwoi's stance on the need to involve opposition in policy making for the sake of continuity.
"It is important that some politicians are told that they cannot stay from some state functions. Politicians who decide to stay away from state functions will soon be forgotten," the minister observed.
Mr. Ahwoi was concerned that the workshop, which brought together stakeholders from across the country to deliberate on a crucial national issues, did not have members of the opposition NPP attending and advised the organisers to endeavour to include opposition parties in subsequent workshops.
Public Agenda however, responded by stating that indeed, they invited three members of the New Patriotic Party (NPP) who for no apparent reason could not attend.
Yieleh Chereh admitted that the contribution of every stakeholder is key in matters of national importance. "Ideas are important, and it is not only those in government whose ideas are the superior ones".
For fear of being victimised by the party in government, some members of the private business community do not want to be seen to be dealing with an opposition party. Indeed, the perception out there is that companies forfeit winning government contract if they are seen to be dealing with opposition parties. To this kind of belief, the minister responded that, "What business at all are you doing with government for you to think you will be victimised if you engage opposition politicians?"
The minister gave the assurance that no private institution or company should be afraid to engage opposition politicians in matters of national significance and that on their part, opposition politicians should also endeavour to honour invitations to such programmes.
Even at the national level, the issue of whether opposition members attend public events remains a prickly one. A recent example is the fact that key functionaries of the opposition NPP did not attend the country's 52nd Independence anniversary celebration just as the ruling NDC, while in opposition, equally avoided such functions.
In a lot of cases, those in government have not felt the need to engage opposition parties in dialogue on crucial national issues or invite them for important national occasions. Conversely, opposition parties have tended to adopt a lassez-fair attitude, waiting only for their turn in government to do their own thing.

The result has been the lack of continuity in a lot of initiatives aimed at alleviating the suffering of the majority of Ghanaians. The result has again been the polarisation of the country along extreme political party lines as ordinary Ghanaians copy from the bitter posture they see of politicians in public.
The Local Government Minister also agreed with Mr. Ahwoi on the lack of a unified front on the interpretation of decentralisation in Ghana.
Indeed, he mentioned "conceptual differences in the interpretation of the decentralization policy by various sectors, ministries and departments" as one of the key challenges facing its implementation.
"This is in respect of the pace and direction of the intended transfer of power, functions and resources, as well as the sequencing and management thereof.
This issue is, for example, manifested in the creation of sectoral services in education, health and forestry."