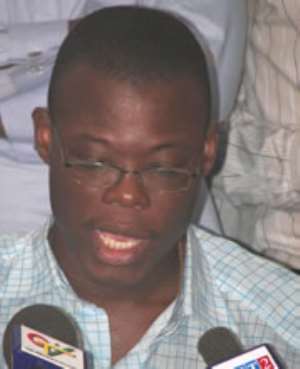 A medical report sighted by The Statesman, reveals that NDC Propaganda Secretary, Fifi Kwetey lied through his teeth, when he claimed Alhaji Abu Mohammed, former NDC Vice Chairman for the Abuakwa constituency, was incapacitated, when he was beaten to pulp by thugs allegedly hired by Nana Akufo-Addo in 1996.
  The unassailable document also provides fresh and hard evidence about the intrigues of the NDC as a party and the lengths to which they would go in making the New Patriotic Party look terrible in the eyes of Ghanaians for political profit.
According to patient folder No K12149 of St Joseph's Orthopedic Hospital, Koforidua in respect of Alhaji Abu, the NDC former Constituency Chairman was knocked down by a vehicle at Tafo on September 15, 2005 and was hospitalized on that same day.
  The report, dated August 10, 2007, was signed by Dr. K.D. Quartey.
  Abu was, according to the report, unconscious for eight to nine hours, suffering "severe injuries to right leg, scalp and left elbow.'
 "After examination at St Joseph's Hospital, a final diagnoses of contusion; multiple lacerations on scalp and neck; blunt abdominal injury; compound comminuted fracture of right tibia and fibula with posterior tibial artery severed; contusion of left elbow secondary to RTA were
Patient's right leg was immobilised and prepared for operation.'
Continuing, the report indicates that Abu was taken to theatre on September 15, 2005, where wound debridement, toileting and suturing was done.
'AO external fixator was also applied to right tibia. Wounds got infected and had to be frequently dressed till they had granulated.'
On November 29, 2005, Abu was taken back to theatre and all extensive wounds skin grafted, the report adds.
He was reviewed March 1, 2007, and the AO external fixators were removed and instructed to start full weight bearing. It was noticed, however, that he developed severe tenderness of the right foot, waist and left elbow; and could not walk relatively short distances without support.
However, checks by this paper have revealed that he has regained full control of his limbs, and has been going about his duties without the aid of any crutches or walking stick. Indeed, on February 20, he was seen trotting several times up and down the stairs of the East Akyem Municipal Assembly as he organized other government appointees prior to their being sworn in as members of the Assembly.
Fifi Kwetey, NDC Propaganda Secretary and Deputy Minister designate for Finance, had wanted to rely on the clutches of the poor accident victim to save himself the consequences of his professional lies, after he had been reject by the Minority in Parliament for appointment as Deputy Minister-designate for Finance.
He stood by lies he had perpetrated that Alhaji Abu was rendered impotent by beatings he suffered during the 1996 inter-party clashes in the then Abuakwa constituency. He had further lied that as a result of the beatings, Abu had been rendered impotent.
Apart from other children born before the December 1996 incident, The Statesman can authoritatively reveal that the former constituency Vice Chairman of the NDC is the proud father of a three-year old child.
Further checks made by this paper at Akyem Tafo in the Eastern Region where he is domiciled also indicates that the man who claims he was rendered  impotent as a result of the alleged brutalities meted out to him by Akufo-Addo-hired thugs has two wives.
 The women are Barikisu, the first wife, and Merri, the second, who alternately share his bed.
Our investigations have further revealed that the real people who attacked Abu Mohammed were some partners in his chain-saw operations who haboured ill-will against him because he had cheated them out of some proceeds from a deal they had jointly  carried out.
It was also gathered that what triggered off the clashes was the subtle move by the then NDC parliamentary candidate, Owuraku Amofa, and some officials of the Electoral Commission to tamper with the final results of the 1996 parliamentary election at the collation centre.
That move was fiercely resisted by supporters of Nana Akufo-Addo, who was the NPP's candidate in the election.
The sound of a gun shot during the ensuing confusion attracted a large number of people to the collation centre. Among the people attracted to the place were the victims of Abu's chicanery, who insisted they would not allow him to disrupt the electoral exercise, after he had engaged them in serious confrontations.
Infuriated by his conduct, and also seeing the electoral disturbances as opportunity to settle personal scores with him, the group allegedly subjected him to beatings.
The Statesman can disclose that a very vile conspiracy is about to be blown as to why Abu Mohammed should be brought to Accra by his NDC benefactors to feign that he is a cripple.
Last Tuesday, the conspirators paraded the compromised former NDC constituency Vice Chairman in the precincts of Parliament and also featured his photograph on the front page of the pro-NDC Ghanaian Lens.
Mr Kwetey, during last year's electioneering period when he sought to 'set the records straight,' accused NPP Presidential candidate Nana Akufo-Addo of ordering his hired thugs to assault Abu Mohammed and other NDC activists at a collation centre at Akyem Tafo in the heated Abuakwa parliamentary elections.
At his vetting, the deputy Minister-designate reiterated his stance, insisting that the NDC activists were beaten on the orders of Nana Akufo-Addo. This generated heated exchanges between the NDC propaganda Secretary and Samuel Atta Akyea, MP for Abuakwa South, who insisted that the claim was false.
Meanwhile, Parliament has adopted the ninth report of the Appointments Committee to approve the nominations of Elizabeth Amoah Tetteh, and Joseph Annan, both deputies for Education, and Kwabena Donkor and Emmanuel Armah-Kofi Buah both for Energy.
The approval was by unanimous decision and the House also agreed that all the nominees were competent and well-suited for the ministries they were being sent to.
This report also failed to capture Fifi Kwetey who was vetted two clear days before these nominees were vetted.