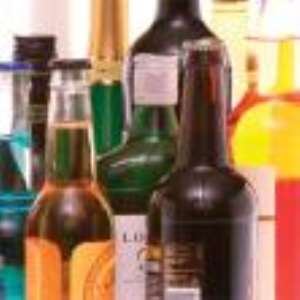 Three persons who were arrested for manufacturing fake alcoholic beverages of Kasapreko Company Limited on Tuesday appeared before an Accra Circuit Court.
The three are Reindolf Borketey, a distiller, Abass Sowah, aka Daniel Amankwah, a factory hand, and Kweku Yeboah, unemployed.
They have pleaded not guilty to conspiracy, deception of consumers and falsely applying trade marks to deceive the public.
The court, presided over by Mr D.E.K Daketsey admitted them to bail in the sum of GH¢10,000 cedis with sureties each to reappear on March 31.
The court has ordered the arrest of an accomplice, Samuel Odai Laryea, for failing to appear before it.
Deputy Superintendent of Police (DSP) E.Y. Frimpong, the prosecutor, said on January 29, 2007, management of Kasapreko Company Limited received information that Borketey, Sowah and Yeboah had prepared fake products of the company and were making efforts to sell them to unsuspecting consumers.
The prosecution said management therefore lodged a complaint with the Police.
At about 0530 hours on January 31, 2007 Borketey was arrested with 37 cartons of fake assorted Kasapreko products, namely Alomo and Opeimu bitters and London Dry Gin.
DSP Frimpong said a further search led to the discovery of four drums containing a quantity of concentrated concoctions and three gallons of herbal concoctions as well as empty Kasapreko bottles and labels.
The prosecution said there were serious health implications that could befall consumers because of the actions of the accused. DSP Frimpong said investigations revealed that Borketey provided GH¢2,000 cedis to support the business.
According to the prosecution, Laryea allowed the rest of the accused persons to use his premises in the manufacture of the fake products.
DSP Frimpong stated that Borketey claimed that he received the genuine labels from an employee of the company but failed to identify him.
The prosecution said the labels and alcoholic drinks were forwarded to the Ghana Standards Board for analytical examine which revealed that the labels were genuine but the drinks were significantly different from the original products.