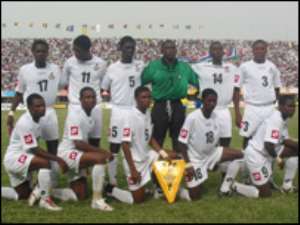 Ghana's Starlets will not be in Algeria The dominant countries in the African U-17 football championship, Nigeria and Ghana, will be missing in action when the 8th edition of the competition opens in Algeria on Thursday and runs through 2 April.
 
But there will be no lack of excitement as some old hands join with newcomers to strut their stuff at the competition.
Host Algeria, which will be playing in the first African U-17 championship, will face Cameroon, Guinea and Gambia in group A, while group B will feature Burkina Faso, Malawi, Niger and Zimbabwe.
Nigeria, which won the U-17 world championship in 1985, 1993 and 2007 and is the reigning African champion, was eliminated by neighbour Benin, in an indication that the face of youth soccer is changing in Africa.
On the other hand, Ghana, two-time world and African champion, was eliminated by The Gambia.
Despite Nigeria's fate, the country has little to lose as it will still play in this year's world championship, which it will host. Ghana is already out of contention for the global competition
The absence of Nigeria and Ghana will be made up by 2003 champion Cameroon and The Gambia, which won in 2005.
Also expected to help raise the standard of the competition is Burkina Faso, a two-time finalist (1999, 2001).
According to CAF, the other participants have never been ranked in the first three of previous competitions, except Guinea, which emerged third during the 1995 edition.
 
Source: PANA
For more Ghana football news visit www.ghanasoccernet.com